1099 Misc Document Information
What is a 1099 Misc form?
The 1099-MISC is used to report income. It is a required tax document if a non-employee, such as a contractor or freelancer, makes more than $600 from the company or individual issuing the document. It details the income and also notes that you have not deducted any federal, state, or other taxes from the income.
A 1099-MISC is also used when someone makes royalty income. The royalty income must be no less than $10.
What you need to know
This document, technically known as the 1099-MISC form, is a tax document that causes a lot of confusion. Who gets one? Who doesn't? Do I need to send them out? Many a bewildered business owner just decides not to bother with it because they just don't know what to do. Fortunately, this form is fairly simple to understand and easy to fill out once you grasp the basics of completing the form and who needs to receive one.
If you are a business owner, you will need to fill it out and send it to anyone that you paid $600.00 or more to during the previous tax year. For example, if you paid $650 to an independent contractor during the tax year of 2017, you'd want to send one out to that particular contractor. Although there are limited exceptions, this can be money that paid for services, certain forms of rental payments, prizes, or any other income to another person.
The most common use of it is to pay freelancers, handymen, independent contractors, or anyone else that provides a service and isn't on your payroll. In short, the person receiving this version of the 1099 isn't actually your employee. It's not your responsibility to provide benefits (including insurance) or withhold taxes. It's important to note that it only need to be sent out for payments related to your business. You do not have to send them out for personal services.
The individual or business receiving a 1099-MISC can use it in addition to or in place of the W-2 that they would receive in a standard employment arrangement.
As previously mentioned, it is also used to report a prize or award from a business. It reminds the recipient that they must pay taxes on that item or income (if they haven't done so already). It provides documentation that tells them exactly how much they've received from your business.
Don't delay or skip sending out the document by the end of January for the previous tax year. Failing to send it out as required can be punishable by fines of $30.00 to $100.00 per form. If the IRS proves that a business intentionally disregarded the law when they failed to send out proper form, the penalty starts at $250.00 per missed statement – with no maximum.
There are quite a few exceptions for which you do not need to send out a 1099-MISC. You're not required to send one to real estate agents or sellers of merchandise, storage, freight, etc. However, you are required to send one to any lawyer that you paid more than $600 to in a calendar year, even if they work with a law firm.
What are the components of a 1099 Misc?
Overview of fields in a 1099 misc
Those who need to send out a 1099-MISC can acquire a free fillable form by navigating the website of the IRS, which is located at www.irs.gov.
Once you've received your copy of the form, you'll want to familiarize yourself with the various boxes that must be completed.
Under the checkboxes that say "VOID" and "CORRECTED" (which are only to be used in special circumstances), you'll find in the upper left corner a relatively large field for the payer's name and basic contact information.
Payer's and Recipient's Information
Under that large box will be two smaller fields: one on the left for the payer's federal identification number (F-EIN) and one on the right for the recipient's identification number (that's a fancy way of referring to their social security number, their taxpayer identification number (TIN), their adoption taxpayer identification number (ATIN), or their F-EIN. One thing to keep in mind is that this information isn't designated by a Box number like you'll notice on the right side of the page and on other tax return documents.
Interestingly, even though the contact information for the payer was just one large box, the fields for the recipient's name, street address, and city, state, and zip code are all separate. These separated fields are located under the boxes for the federal identification numbers of the payer and recipient of this IRS form.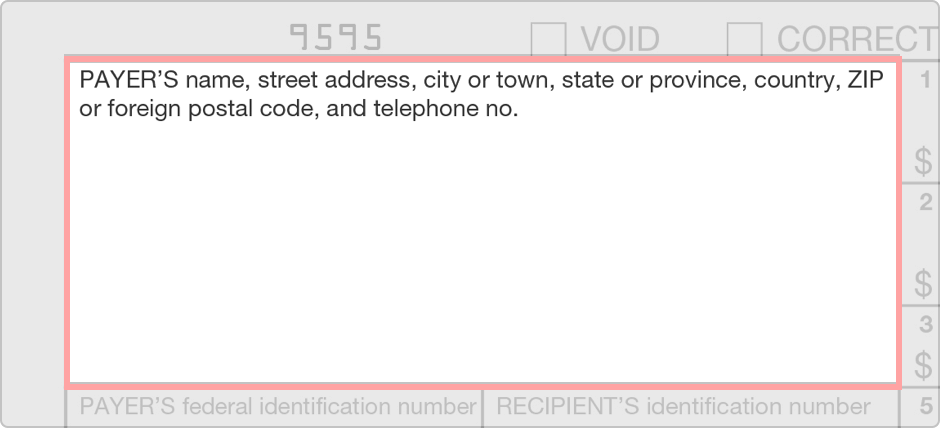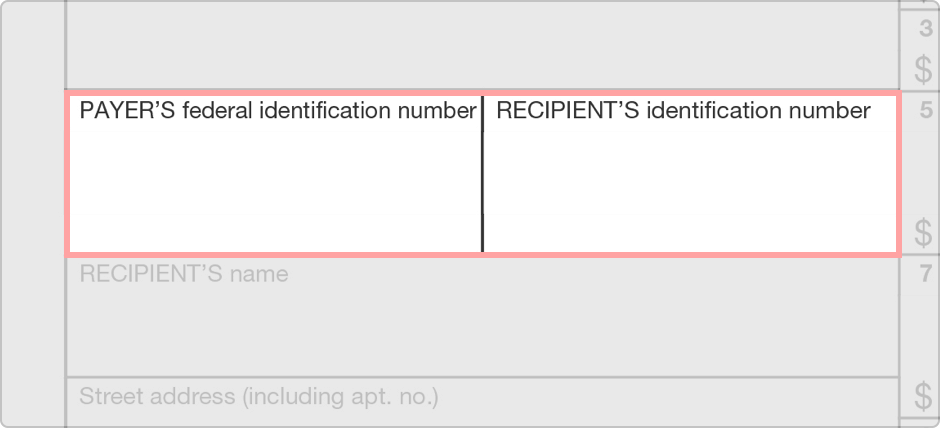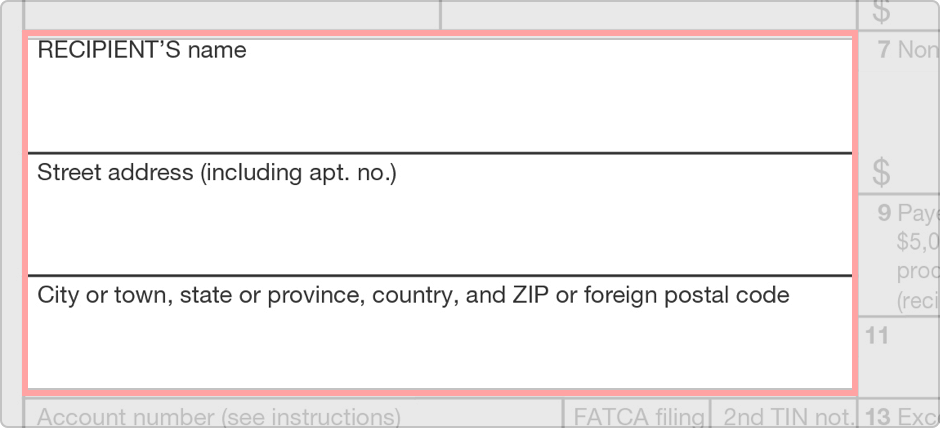 Account Number
Next, you'll see the account number field. It is located on the left side of the form, and it does not have its own Box number. The account number is generally filled if the payer has multiple accounts for a recipient for whom they file more than one Form 1099-MISC.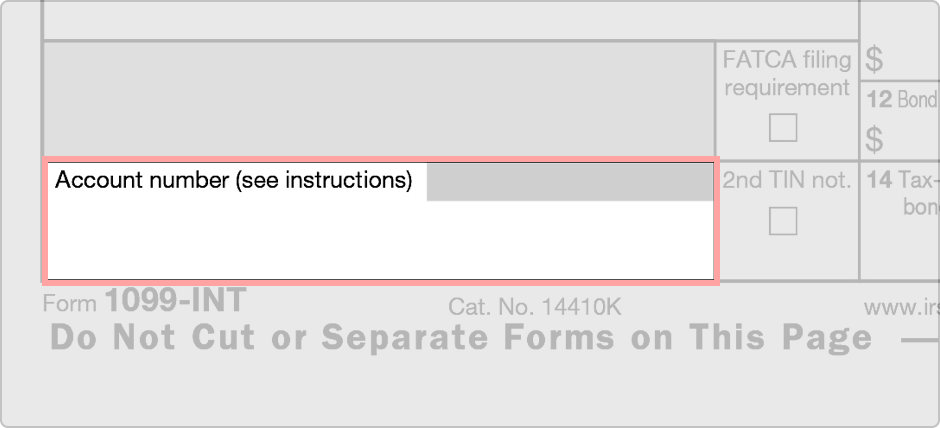 FATCA Filing Requirement Checkbox
You'll see a little checkbox for FATCA Filing Requirement. This refers to Foreign Account Tax Compliance Act filing. You, as the payer, must be a U.S. citizen required to report certain foreign tax payments. This Box has no identifying number. It is located directly to the right of the Account Number Box.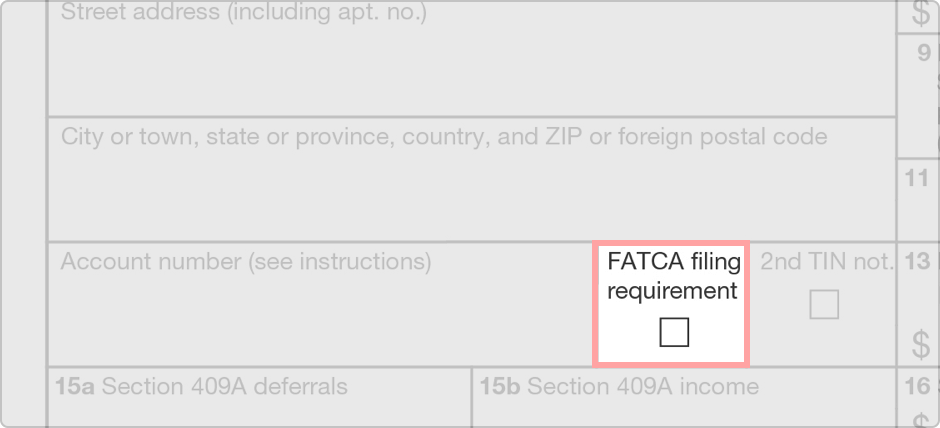 2nd TIN No.
Next to FATCA Filing Requirement checkbox, you'll see another checkbox for 2nd TIN No. Check this box if you, as the payer, were notified twice by the IRS that the TIN for the recipient was incorrect. This notification makes take place over three years.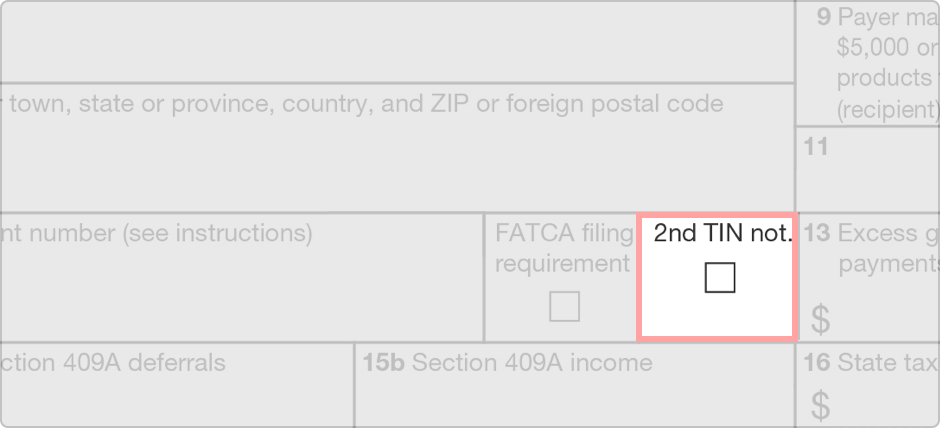 Box 15A & 15B
Box 15 (A and B) asks about any applicable Section 409A deferrals and income. To learn more about Section 409A deferrals and income, review the IRS' instructions for the form. We're addressing these two Boxes before the other Boxes simply because they appear on the left side of the page under the payer and recipient information.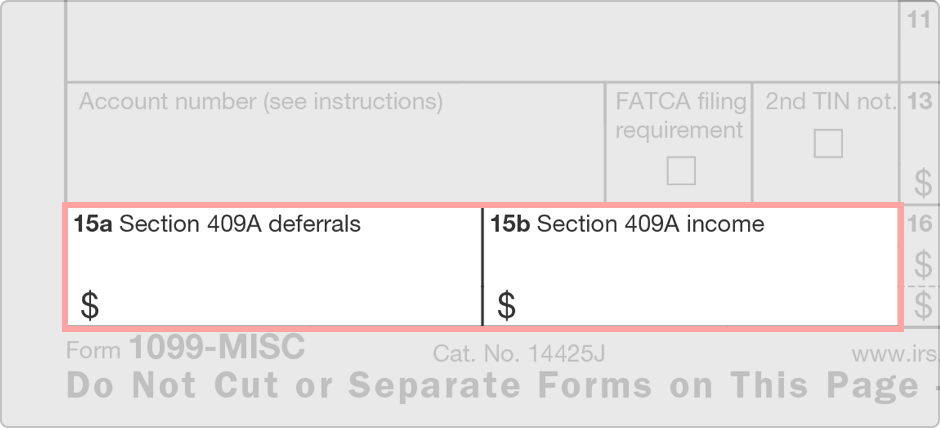 Box 1
Box 1 is located on the right side of the page. It is designated as Rents. You would report rents form real estate listed on Schedule E or Schedule C (depending on your circumstances). You can learn more about this box in the IRS instructions for Form 1099-Misc.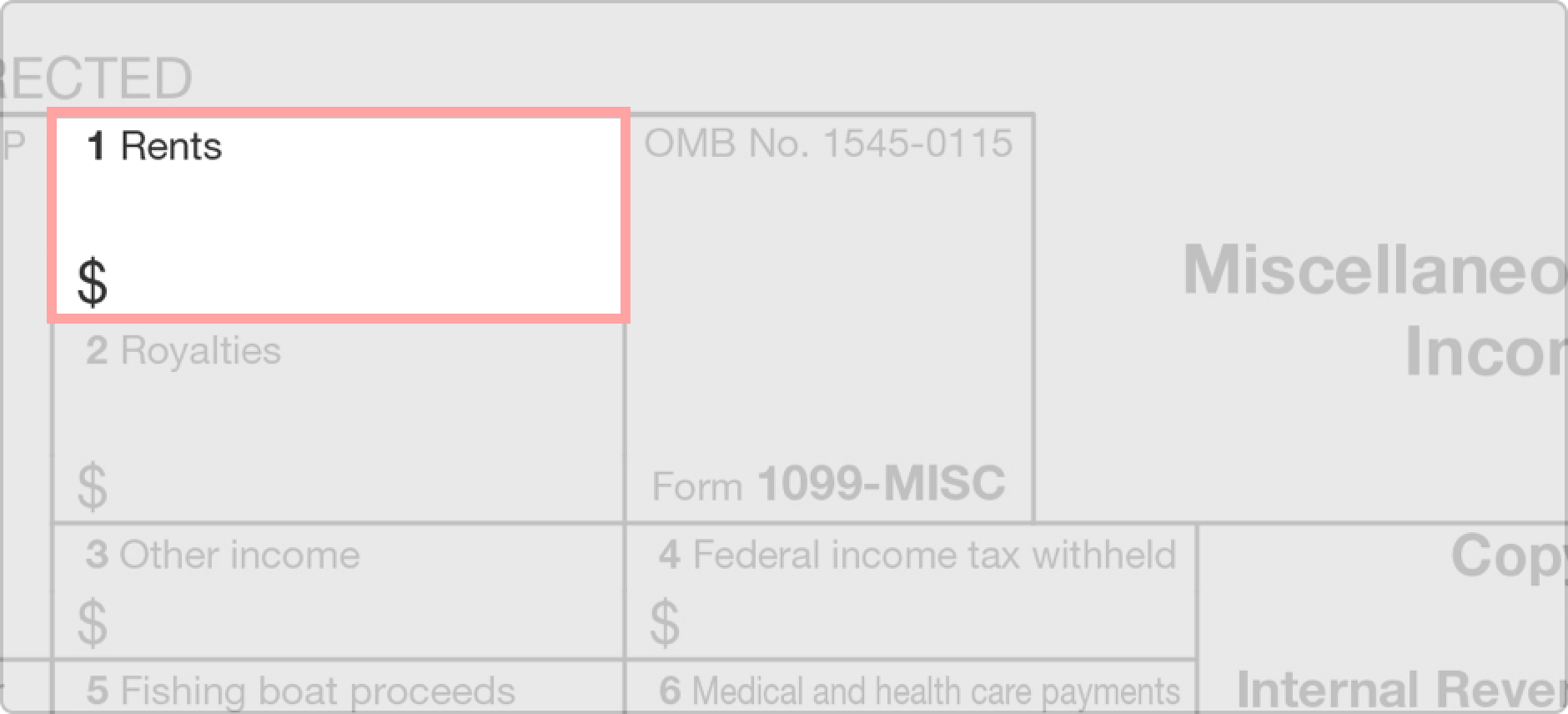 Box 2
Box 2 is designated as royalties for oil, gas, mineral properties, copyrights, and patents from Schedule E. You'd also use this box to report payments for working interest. If you receive royalties on timber, coal, or iron ore, you should consult IRS Pub. 527.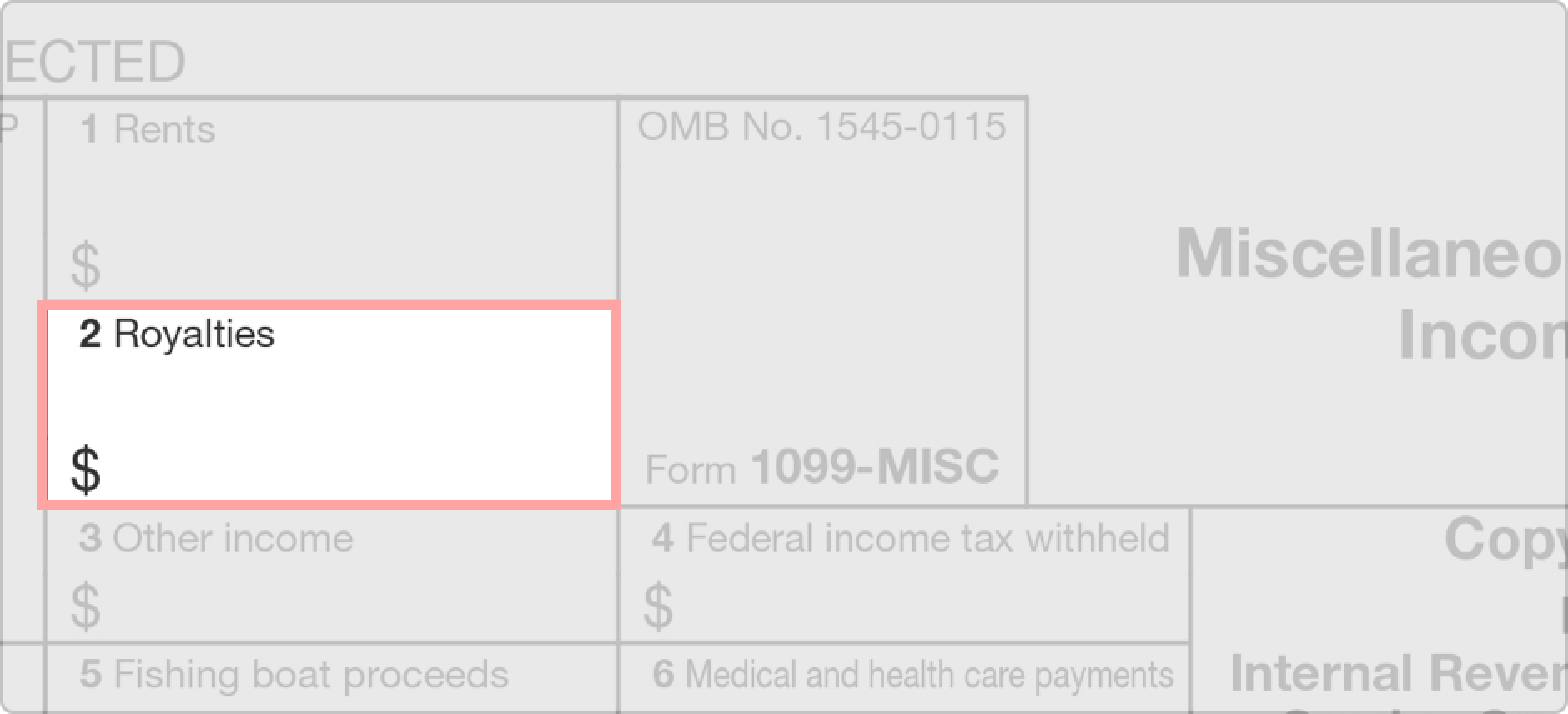 Box 3
Box 3 is used to report other income from Form 1040. You'll also identify the type of payment. For example, if you won a prize worth $650, the amount would be reported in this box and you'd designate that as a prize. If the money is trade or business income, it is reported on Schedule C or F, but will still be listed here.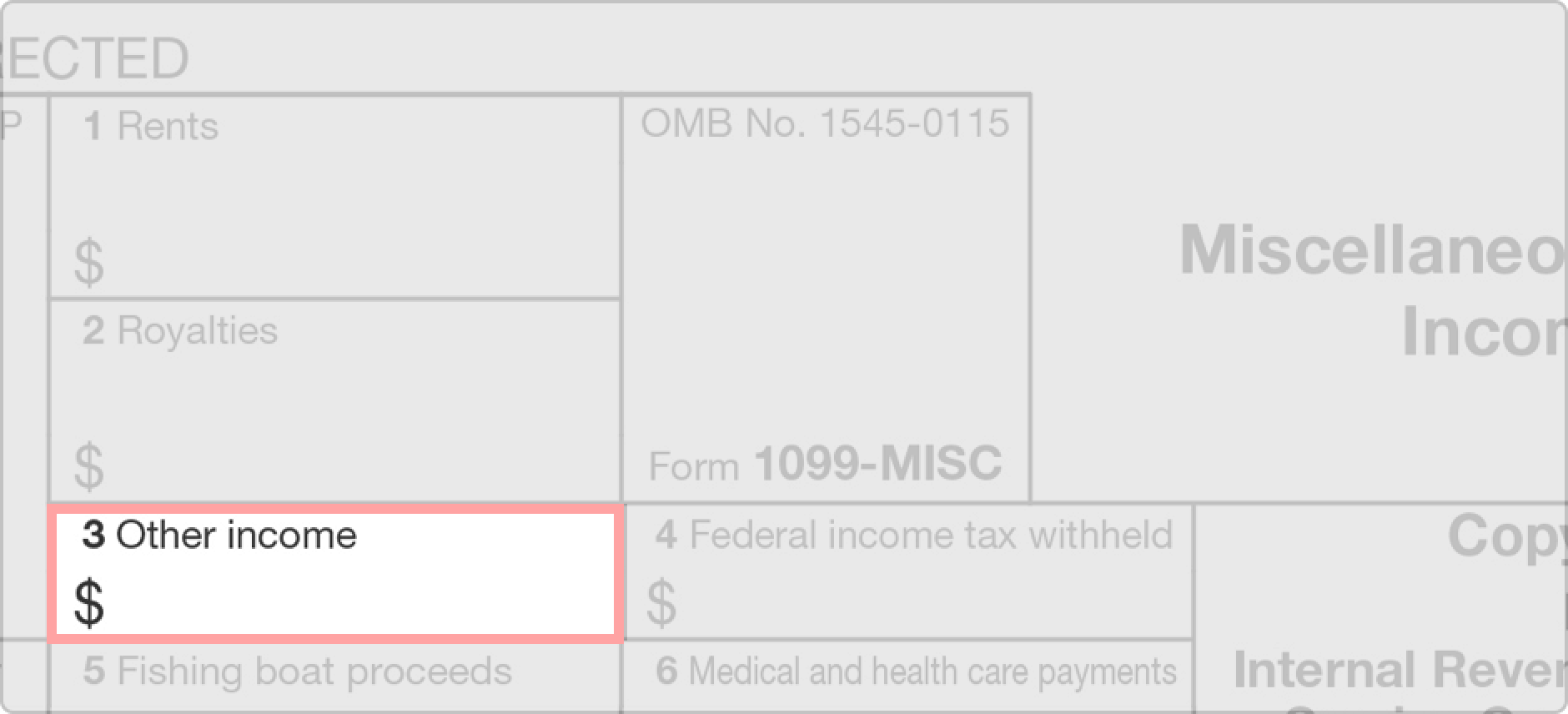 Box 4
Box 4 records backup withholding or withholding on Indian gaming profits.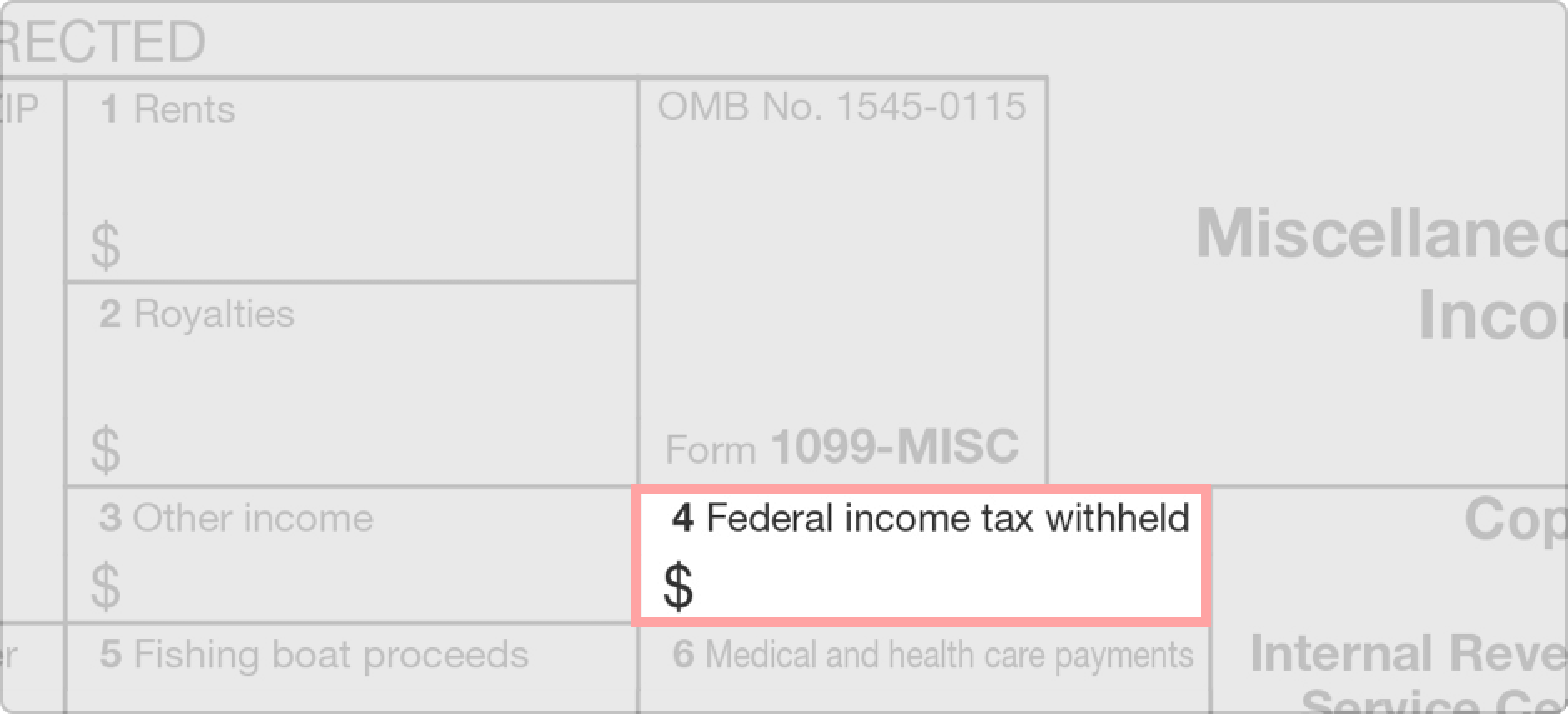 Box 5
Box 5 records money received by fishing boat operators who are self-employed.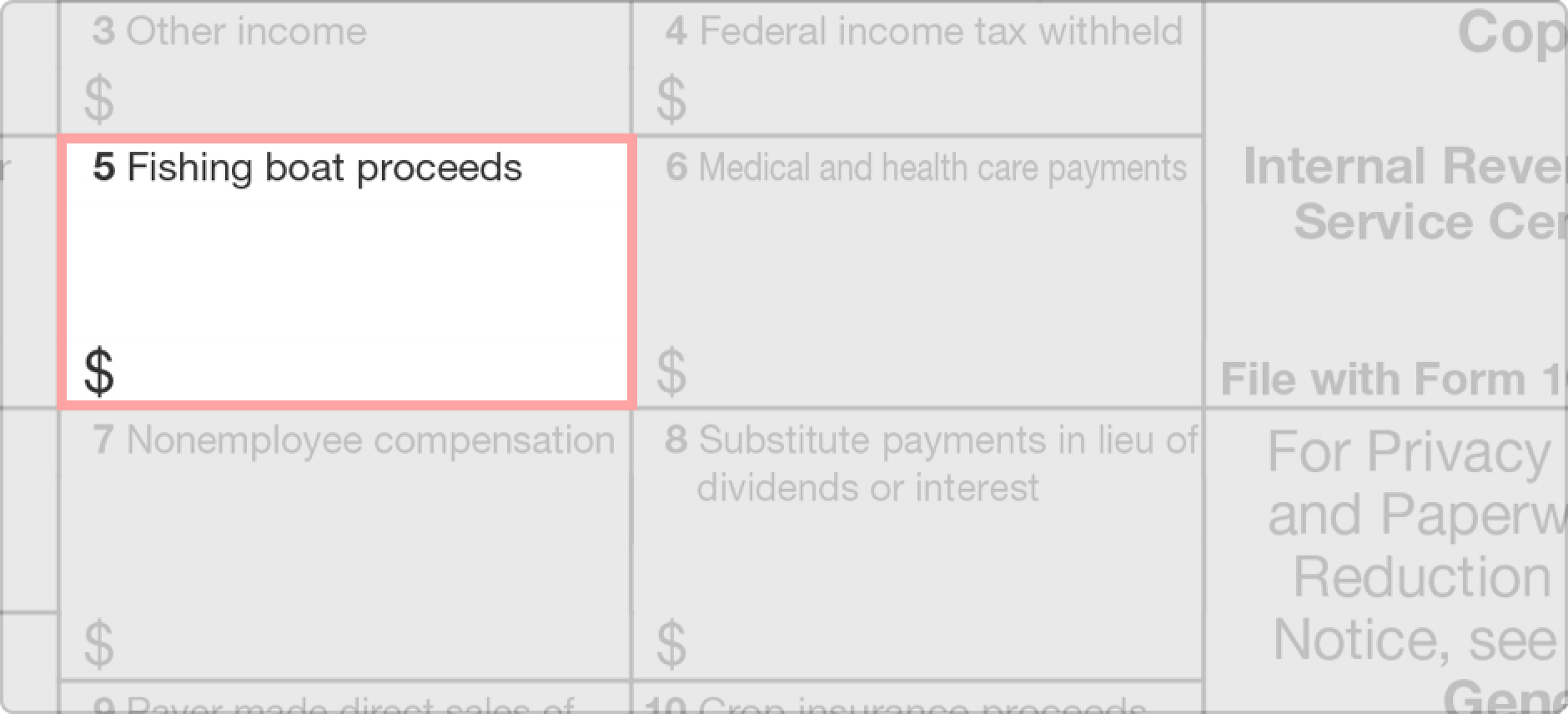 Box 6
Box 6 is for medical and health care payments that are reported on Schedule C.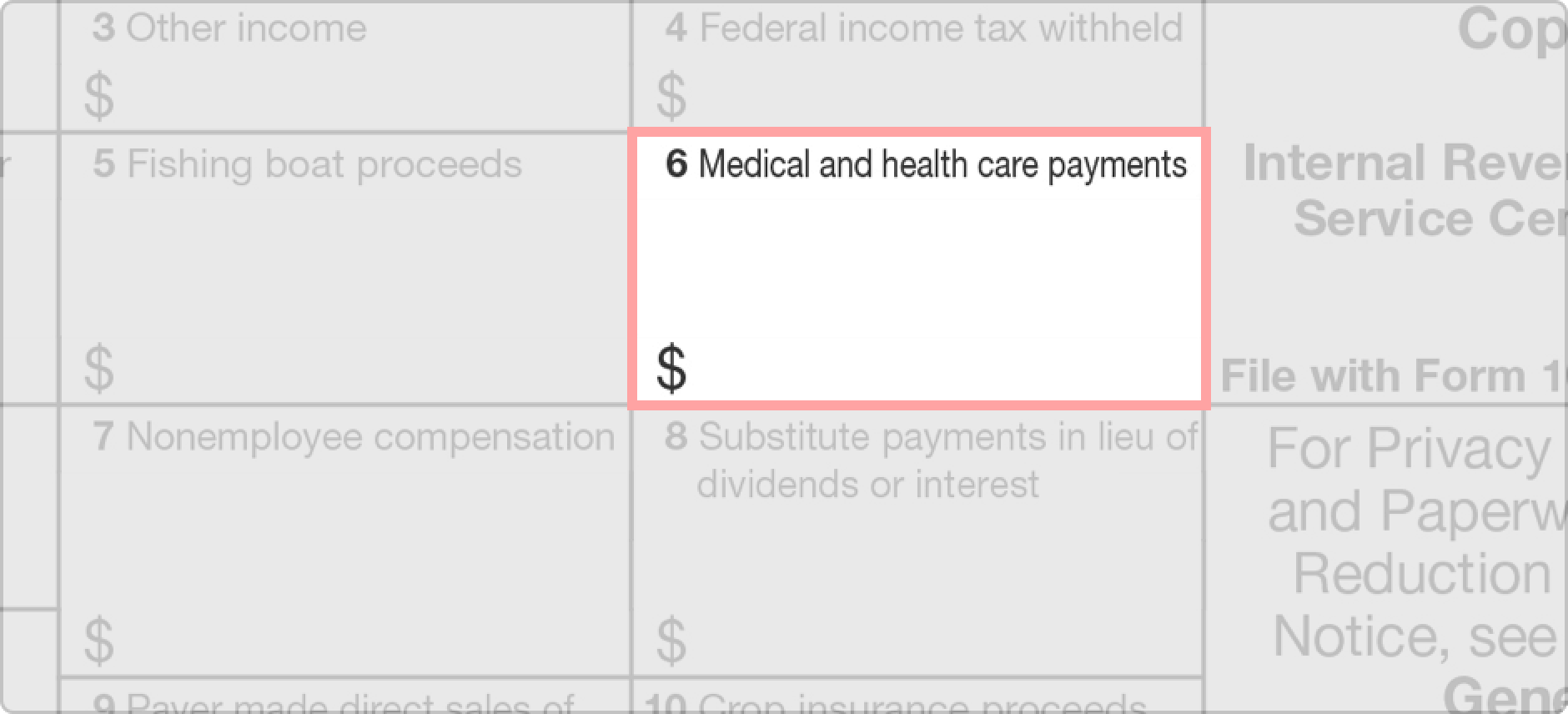 Box 7
This is the most commonly used field on IRS Form 1099-MISC: nonemployee compensation. This is where you'll list the amount you paid to the freelancer.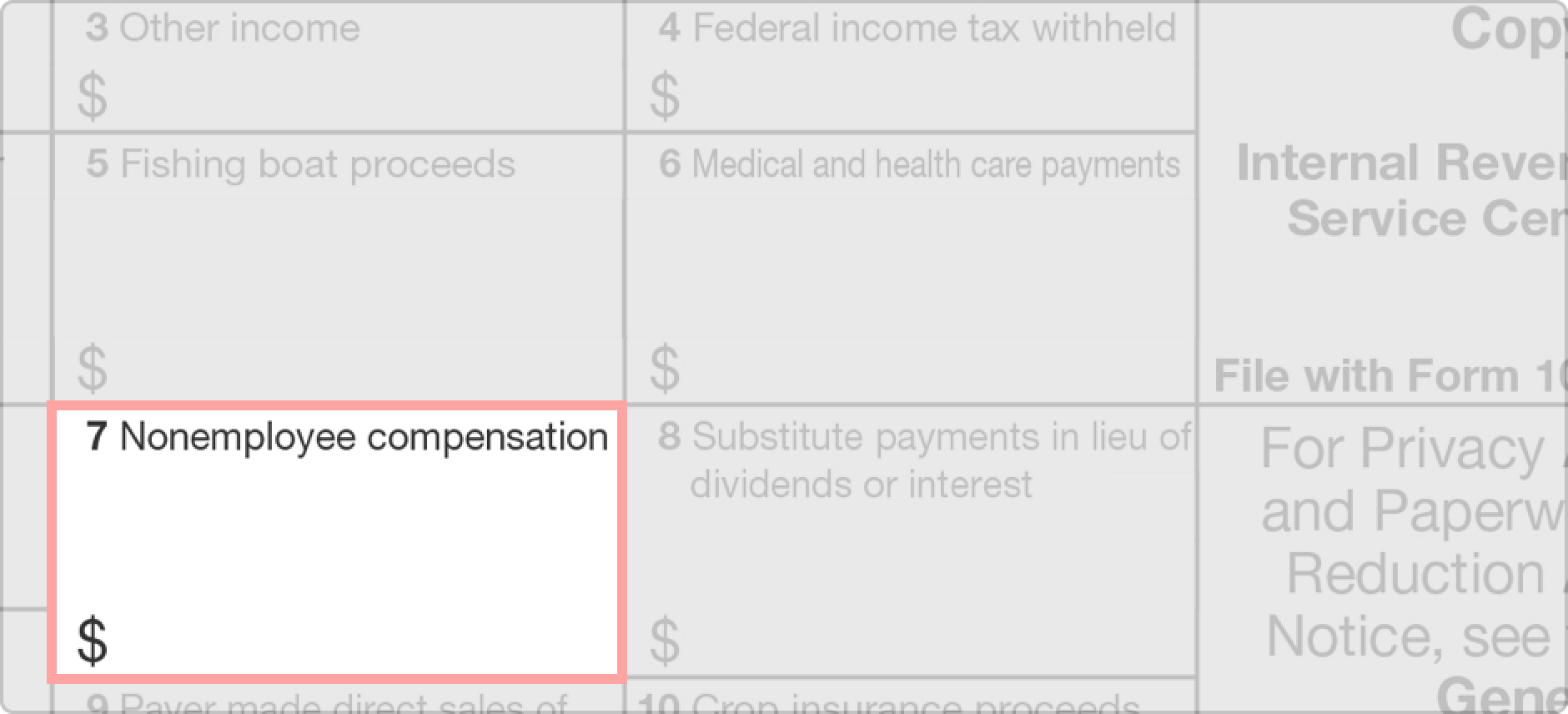 Box 8
This Box records substitute payments in lieu of dividends or interest.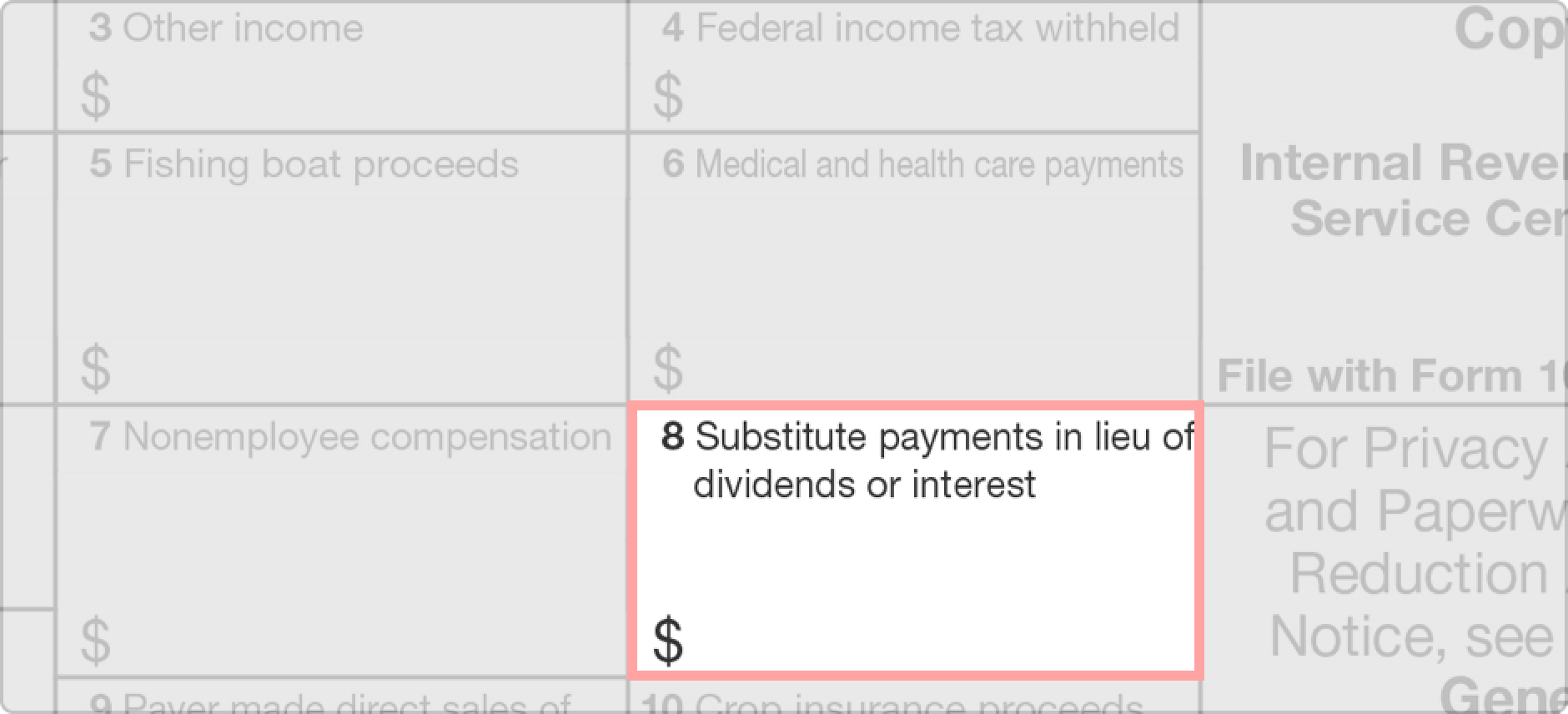 Box 9
Box 9 is checked if the recipient had $5,000 or more in direct sales of consumer products. However, the dollar amount doesn't have to be listed. This is also reported on Schedule C.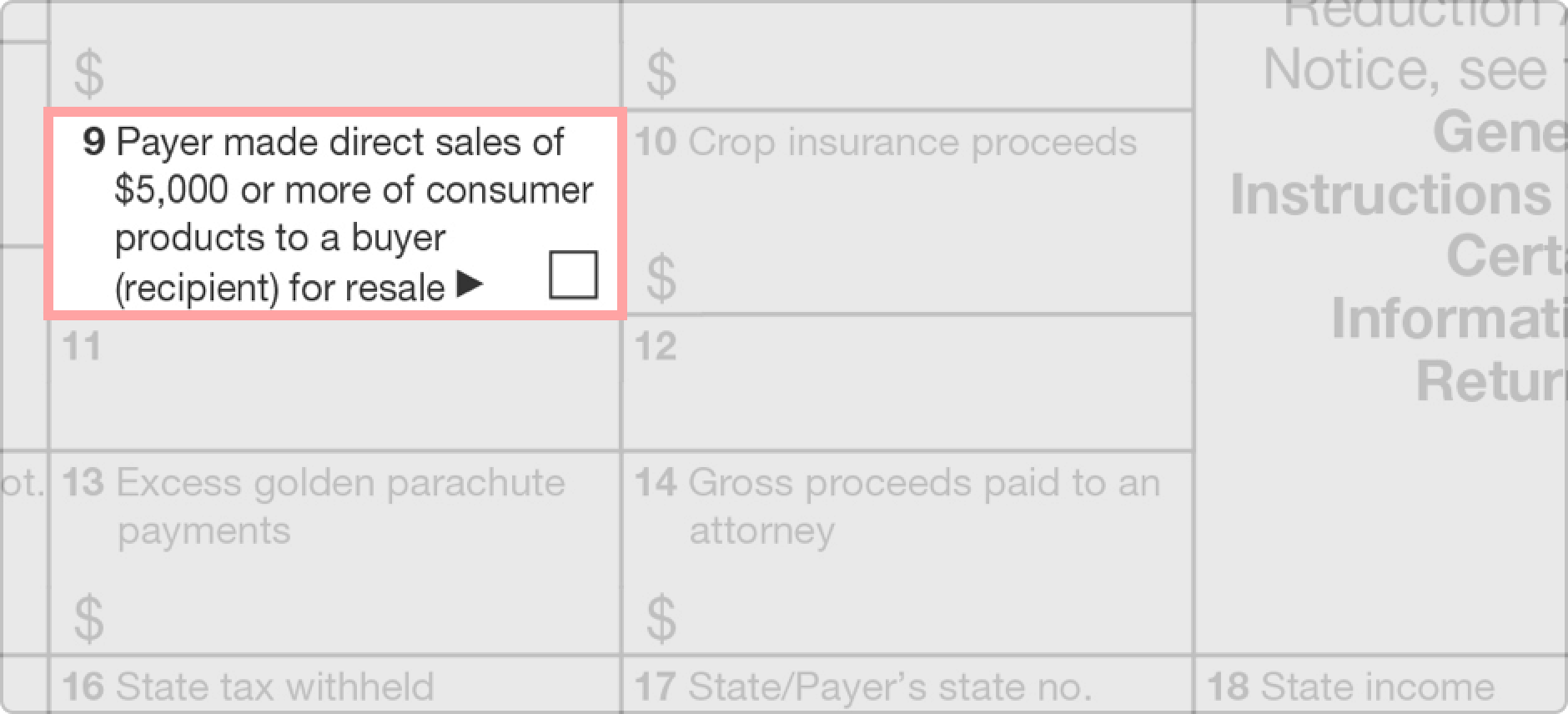 Box 10
Box 10 records crop insurance proceeds.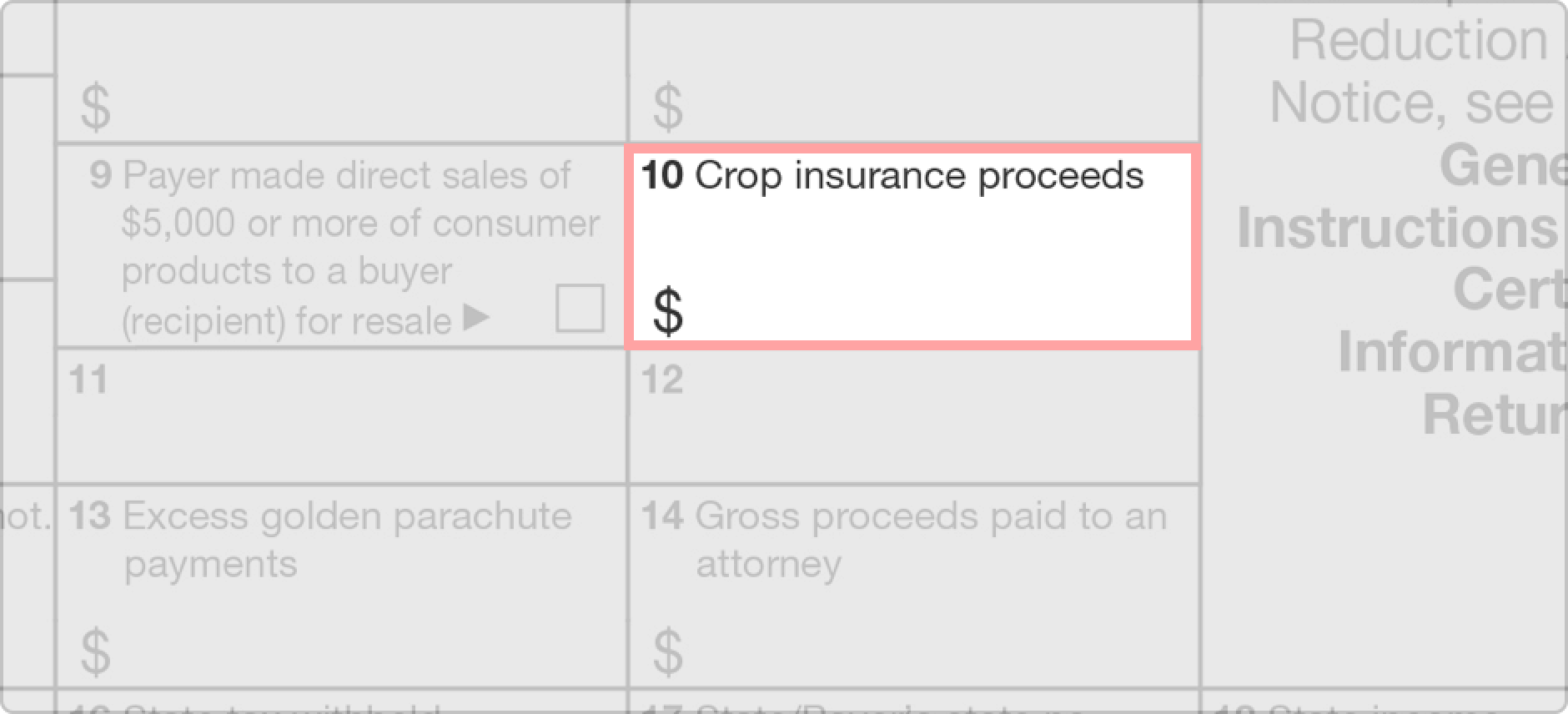 Boxes 11 & 12
You'll notice that there is a Box 11 and a Box 12, however they're not named on the form nor is it addressed in the instructions.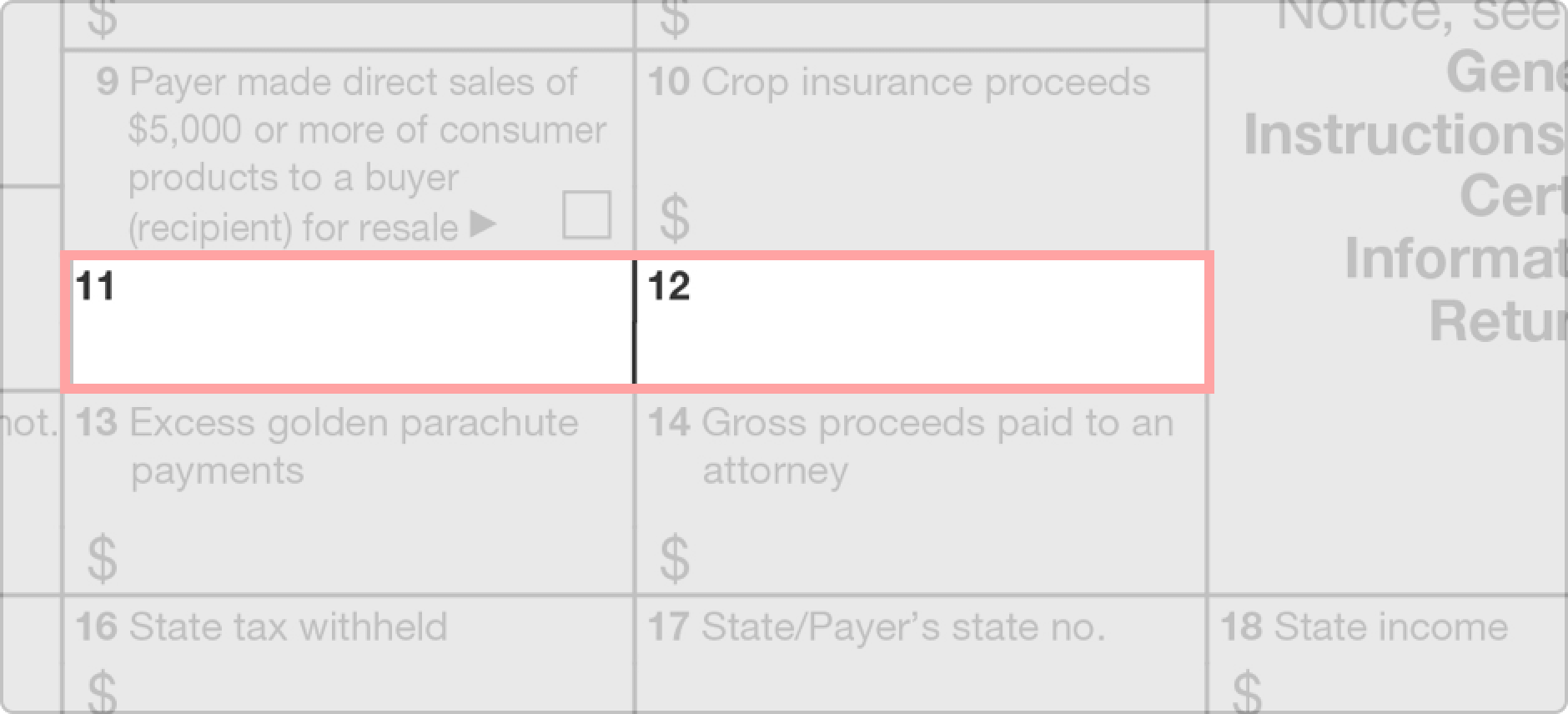 Box 13
Box 13 is designated as Excess golden parachute payments. Excess golden parachute payments are reflected on Form 1040 and they are subject to a 20% excise tax.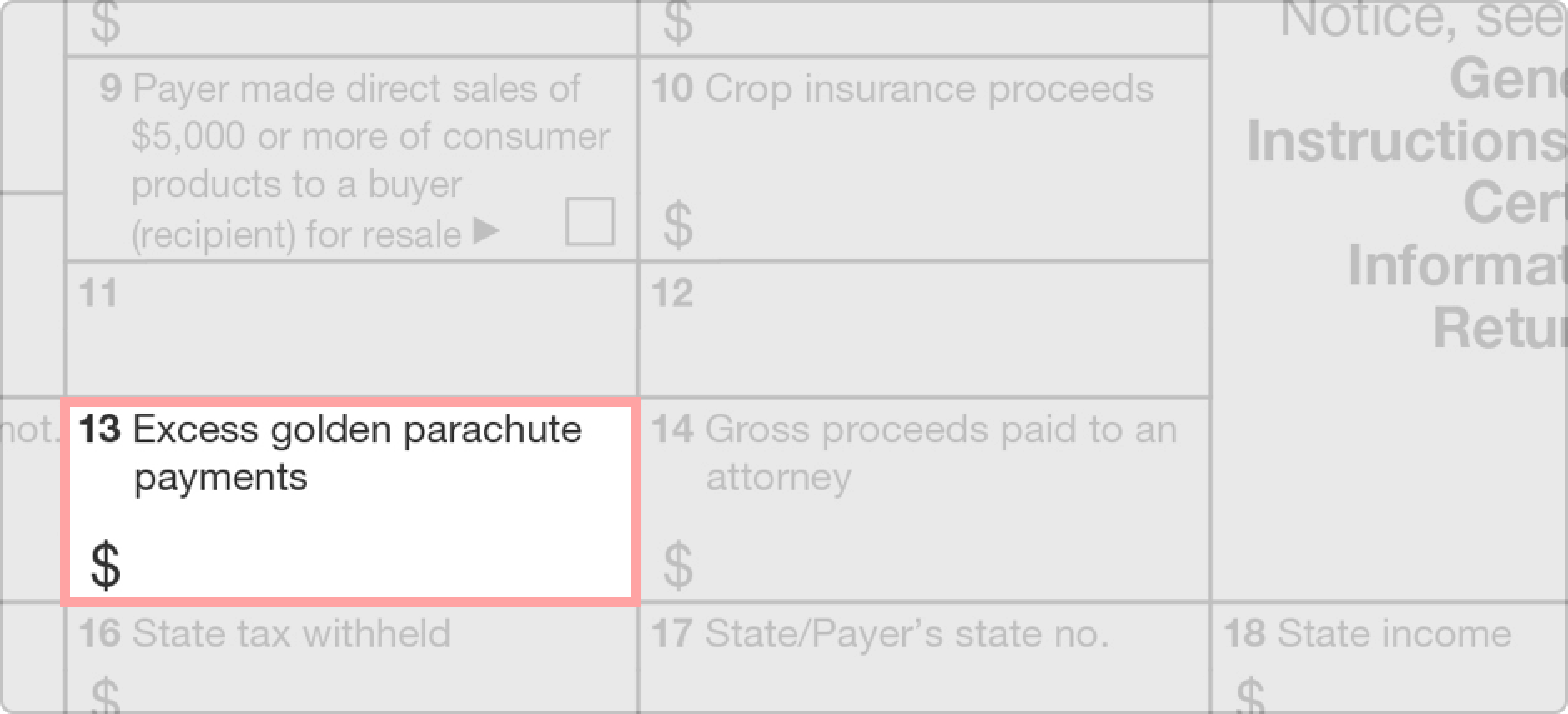 Box 14
This Box is designated to record the amount of money you paid to an attorney for business purposes.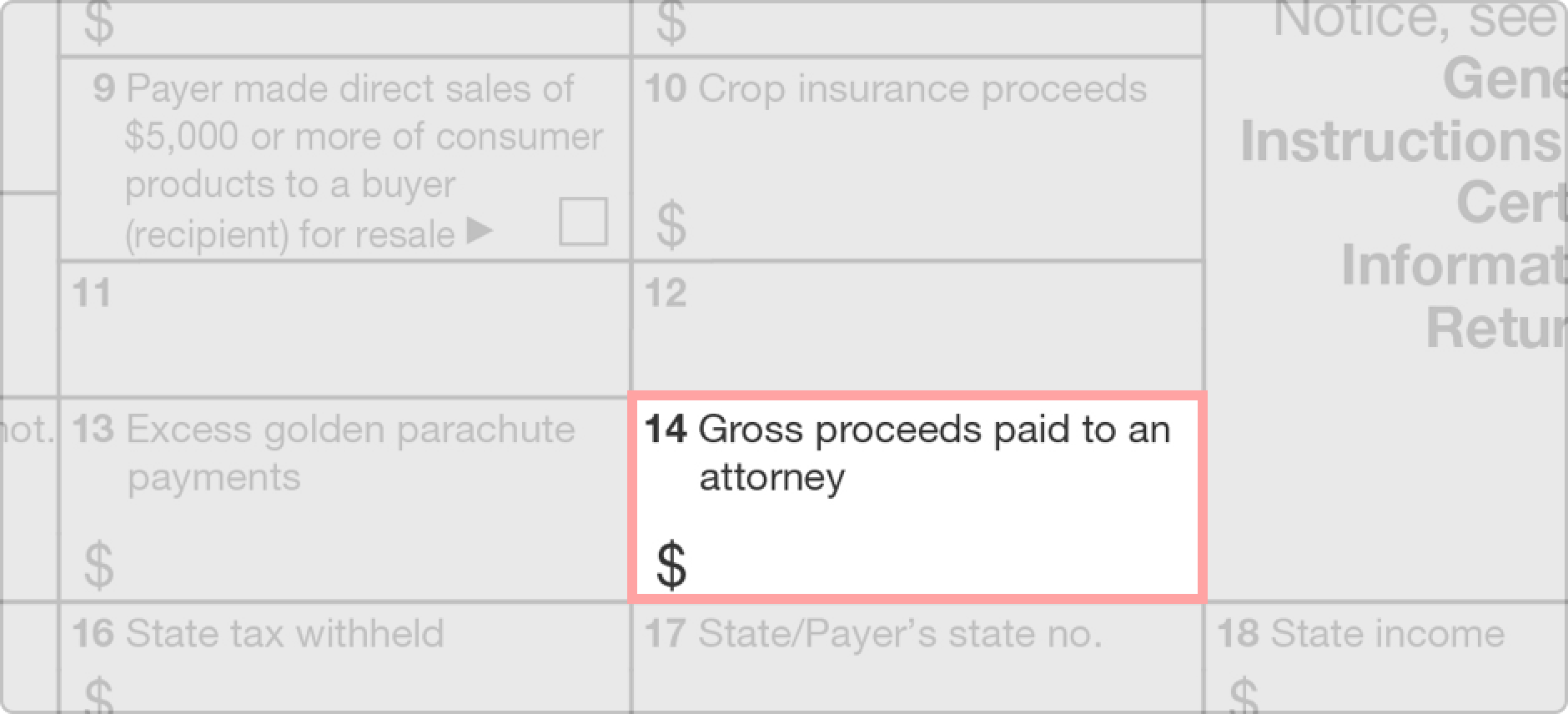 Box 16
Box 16 records the amount of state tax withheld from the money you were paid.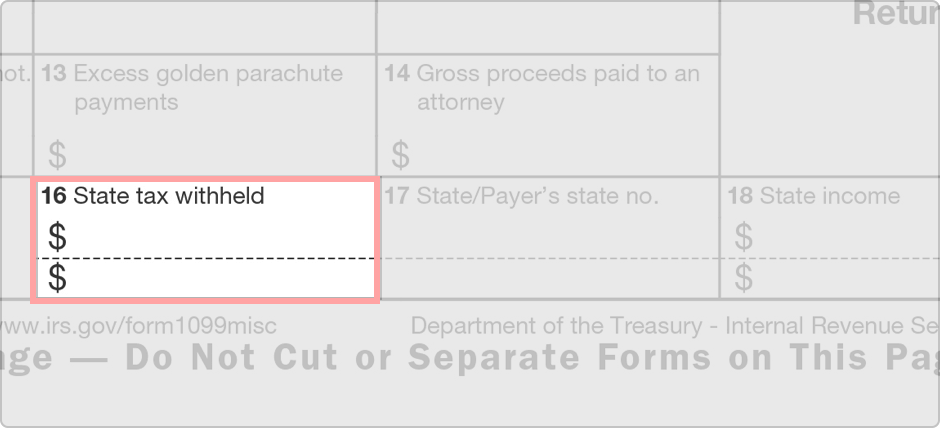 Box 17
Box 17 is used to record the state numbers.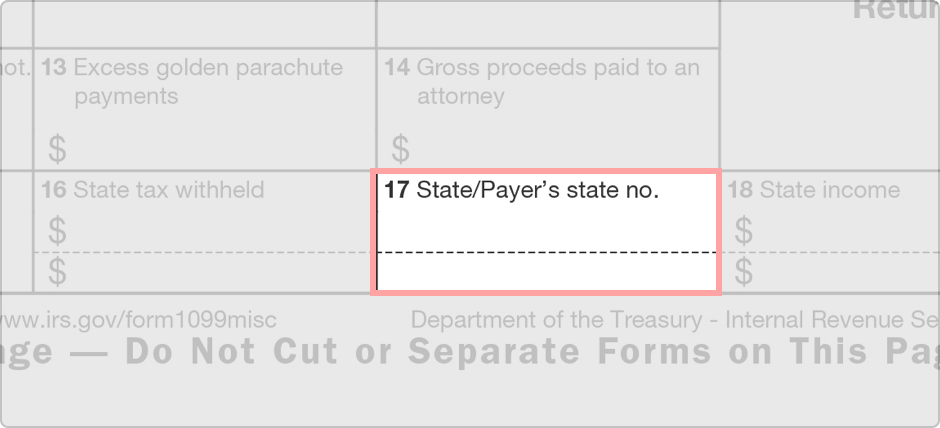 Box 18
This Box is used to fill in state income.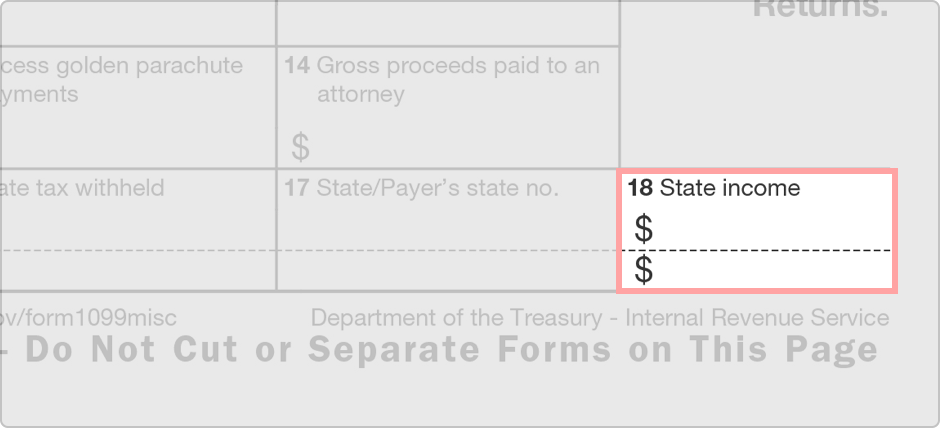 Boxes 16 through 18 track state information and they are only provided for the payer's convenience. They do not need to be filled by the payer.
That's really all there is to it: 18 boxes, many of which don't need to be completed by the majority of payers. Payers who familiarize themselves with these boxes will discover that it isn't so complicated after all. Once completed, the payer must send a copy of it to the Internal Revenue Service and a copy to the paid individual.
How do you fill out a 1099 Misc?
This document should not be confused with a W-2 form. Remember, it is used primarily for independent contractors, freelancers, and individuals who win a prize (including money) from your business in an amount that is $600 or greater. Whereas, a W-2 is used in an employer-employee relationship.
Completing and filing this tax form is easy. Simply fill in the appropriate boxes according to the definition of the boxes you learned about in this guide. Remember that you won't put information in every box. Once the form is complete, you'll send a copy to the person you paid and you'll also send a copy to the IRS. The specific mailing address to send Copy A (you'll learn more about the various copies and to whom they belong in just a moment) to the IRS may differ according to the payer's location. It is advisable to refer to the Instructions for Form 1099-MISC. It may be more convenient for you to file electronically. For you to do that, you must have certain software that can generate a file according to the specifications found in Pub. 1220, Specifications for Electronic Filing of Forms 1097, 1098, 1099, 3921, 3922, 5498, 8935, and W-2G.
The 1099 has several "copies." Here's the right way to distribute those:
Copy A must be sent to the IRS. You may also need to send Copy 1 to your state's tax department. Copy B must be sent to the recipient. Copy 2 may also need to used by the recipient for their state taxes, so make sure you give that to them as well. Finally, there is Copy C. It is for you, the payer, to retain for your own records.
Filing due dates will vary each tax year due to weekends, but taxes are generally due around April 15th of each year (unless you or the recipient pay quarterly). However, you should make sure that you send out all 1099s by the end of January to ensure that everyone has the forms they need when they need them. Also, there are specific dates by which you, as a business owner, should send out documents to contractors.
A Tax Guide for Independent Contractors
An Overview of Tax Filings for Freelancers
In 2014, 91 million 1099-Misc forms were issued by businesses. That's up by nine million since 2010. These 91 million documents represent individual contracts, not individual workers. In other words, since an independent contractor can, and often does, sign multiple contracts in a given year, there aren't 91 million Americans working in the gig economy. The figure does, however, indicate the scope and upward trend of freelance work in the current American economy.
Rather than the standard W-2 form, freelancers receive 1099-Misc forms. A 1099-Misc is the W-2 equivalent for anyone who works for themselves.
Why Use this guide/who should use this guide/how to use this guide
Why use this guide?
As a standard employer or employee, taxes are relatively simple. Employers submit a W-2 to an employee, and the employee uses the W-2 to fill out either a 1040-EZ or a 1040A tax form. For freelancers, and employers who contract with them, tax filings are more complex for two reasons:
The varying classifications of freelance work.
The many forms required to file taxes properly for both contractor and employer.
Who should use this guide?
All freelancers that take home more than $600 and any business professional involved in an industry that employs freelance work, which pays out more than $600 per year in contract work, will find useful information in this guide. Think of it as your digital handbook to freelance tax information.
How to use this guide:
We think of this guide as a digital post-it note for freelancers and their employers during tax season. It offers detailed instructions on completing and filing the main tax forms. Use this guide to educate yourself well in advance of tax season so you can properly and efficiently file your taxes come April.
Meet our authors
A Tax Guide for Independent Contractors and the Companies Who Hire Them is a go-to resource for all freelancers and their employers, co-authored by Justin Gomer and Jackson Hille.
Justin Gomer is a Lecturer at the University of California, Berkeley, and soon to be author of two books. Jackson Hille is a Content Manager at FormSwift and the 2013-14 Departmental Citation Recipient in American Studies from the University of California, Berkeley.
Top Tips and Rules for Employers and Freelancers
This guide considers both sides of the employer/contractor relationship and provides an informative breakdown for both parties, so that when taxes are due next year, you have a single resource that prepares you to submit all of the requisite paperwork with your accountant or tax filing service. In other words, whether you are an employer or freelancer, this guide is your one-stop shop come tax season.
For Employers
Who needs a 1099 Misc?
How do I determine if a worker is an employee or independent contractor?
According to the IRS, the distinction centers around three variables:
Behavioral Control: Behavioral Control, according to the IRS, "covers facts that show if the business has a right to direct and control what work is accomplished and how the work is done, through instructions, training, or other means."
Financial Control: Financial Control, according to the IRS, "covers facts that show if the business has a right to direct or control the financial and business aspects of the worker's job." This includes, but is not limited to, the reimbursement of business expenses, how the worker is paid, and the ability for the worker to realize profit or incur a loss.
Relationship of the Parties: Relationship of the parties, according to the IRS, covers the specific details of the relationship between the employer and worker including: terms of contract, benefits and compensation, permanency of the relationship, and how integral the services provided by the worker are to the daily operations of the company.
What about vendors?
If you plan to hire a vendor for contract work over $600, request a W-9 form from the vendor beforehand. By incorporating this into your hiring protocol for contract work, you'll get an early start on collecting required information—such as the contractor's mailing information and Tax ID number—for the subsequent creation of the document.
Requesting a W-9 in advance will also enable you to avoid the complex scenario of backup withholding, which requires you to set aside 28% of the payments you paid to another person if you do not have their tax info during filing time.2
Who is responsible for preparing a 1099-MISC?
This is an important question for both businesses and contractors. While we explained this earlier in the guide, it's important to reiterate this information so that it is used at the right time. The key is to remember the "600" rule is: businesses must issue it to anyone that is paid $600 or more in "rents, services (including parts and materials), prizes and awards, or other income payments."1 A contract that totals less than $600 does not require one.
When should I issue them?
You must issue a 1099 to its recipient by January 31st of the year in which you are filing your taxes. For example, a 1099 for a contractor that worked with you in 2015 must be issued to the contractor by January 31, 2016. Additionally, you must send the red copy of it to the IRS by the last day of February by mail, or by March 31 if you are doing so electronically.
To whom do I send a 1099 misc form?
It should be sent to any contractor you paid $600 to or more during a tax year unless they are a realtor. You also use it to report the value of prizes and awards if they are worth $600 or more.
For Freelancers
How do I file my taxes?
As a freelancer, you do not generate your own 1099. Instead, the company who contracted you furnishes the form in January of the year after you complete the contract. This means that if you contracted with multiple companies and made $600 or more from each company, you will receive multiple 1099s (one from each company). If you completed multiple projects with a single business and made more $600 or more, they will send you a single 1099 that includes all of the work you completed. Labor that amounts to less than $600 does not require a 1099.
Your responsibility, then, is to use the info from the 1099(s) you receive to complete your federal and state taxes and send in the appropriate copies to the IRS and the state along with other required income tax return documentation for your particular situation.
What are my tax obligations?
Freelancers are responsible for both self-employment and income tax. Generally, the amount of income subject to self-employment and taxes equates to 92.35% of your net earnings (net earnings = income - business expenses). While self-employment taxes are collected annually, income taxes are collected on a quarterly basis, due on the 15th of April, June, September, and January. However, how much you will pay in taxes will depend on how you've set-up your business.
How can I stay on top of tax payments?
Plan ahead and keep detailed records. Set aside money each month not just for your end of year taxes, but for your quarterly payments as well. Additionally, there are a number of write-offs for the expenses you incur—a portion of your mortgage/rent, utilities, home office, etc.—depending on how you structure your work. Keeping detailed accounting records of these costs will ensure you can minimize your tax burden at year's end. So itemize all of your expenses and commit to a thorough system of record-keeping. Talk with a tax professional to learn the best ways you can minimize your tax liabilities.
What if I have low business expenses or no employees?
Schedule C-EZ is primarily for writers and graphic designers that meet the following criteria:
Business expenses are less than $5,000
Have no employees
Have no merchandise inventory (Etsy Shop owners must use Schedule C because of this provision)
Are not using depreciation or deducting the cost of their home.
What expenses can I write off?
Close to everything. Seriously. Here's a list to get you started:
Business & health insurance
A certain amount of your travel costs
A certain amount of your meals with clients
Computer repairs
Vehicle costs associated with your business (repairs, gas, etc.)
Education
Business cards
Interest on business related credit cards
Lawyer fees
Where do I declare expenses on my Federal Tax Return?
You will enter deductions from the list above in either Schedule A or Schedule C of your 1040. You'll record items like interest paid, insurance expenses, and charitable gifts in Schedule A. Your expenses—vehicle, insurance, education, travel, events, home office, supplies, meals, etc.—will go in Schedule C.
More resources