Alternate Names:
A Last Will and Testament is also known as:
Will

Will and Testament

Last Will
What Is a Last Will and Testament?
A last will and testament is a legal document that details how a person's assets and properties will be distributed after their death. This legal document can also specify custody and guardianship details for the surviving children.
To complete your will, you should have a clear idea about what you want to happen to your financial and real estate assets. You should have personal information for the parties that will be receiving these assets in the event of your death. If you have the information you need, you can create a will without a lawyer's assistance.
Do You Need a Will?
The short answer is yes. If you are a legal adult, you need a last will and testament. Dying without a will is known in the legal world as dying "intestate". Essentially, if you have not made your wishes known and legally binding through a will, the state will decide how your property is divided. If you have a spouse or legally recognized partner but no children, then they receive all of your property. If you have children or have no legal partner, the estate's distribution has the potential to become confusing. In extreme instances, everything you own could become the state's property, simply because there was no legally binding will at the time of death.
You aren't required to hire a lawyer to create your will. However, it is best to seek legal counsel regarding the best course of action for planning your estate, given your financial circumstances. If you decide to do this on your own, there are many D.I.Y. books and online resources that can help you to do so (see our last will form above).
A Sample Last Will and Testament with Examples for Each Step
Step 1 - Names of Testator:
In this first section, state your name (the Testator or Testatrix) in the appropriate area. In this case, a Testator is an individual who will be releasing their belongings, possessions, and assets to other individuals once they pass away.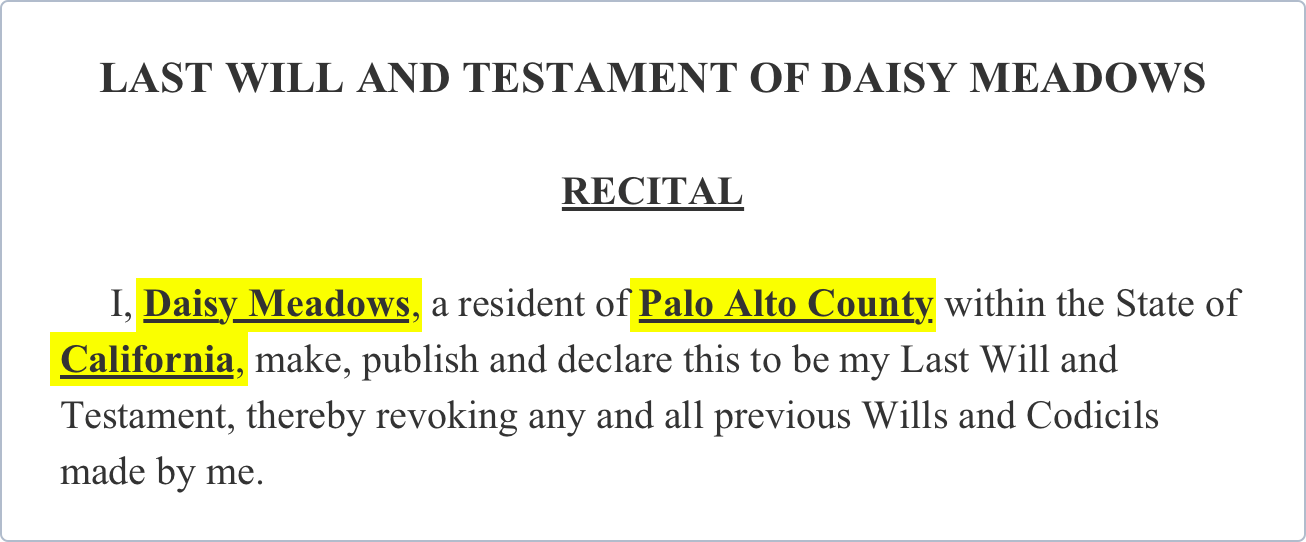 Step 2 - Add Relatives:
In this section, declare your marital status. If you are married, separated, engaged, or widowed, please list the other individual's name.

Step 3 - Add Children:
First, declare how many children you have. For each child, provide his or her name, date of birth, and whether they are living or deceased.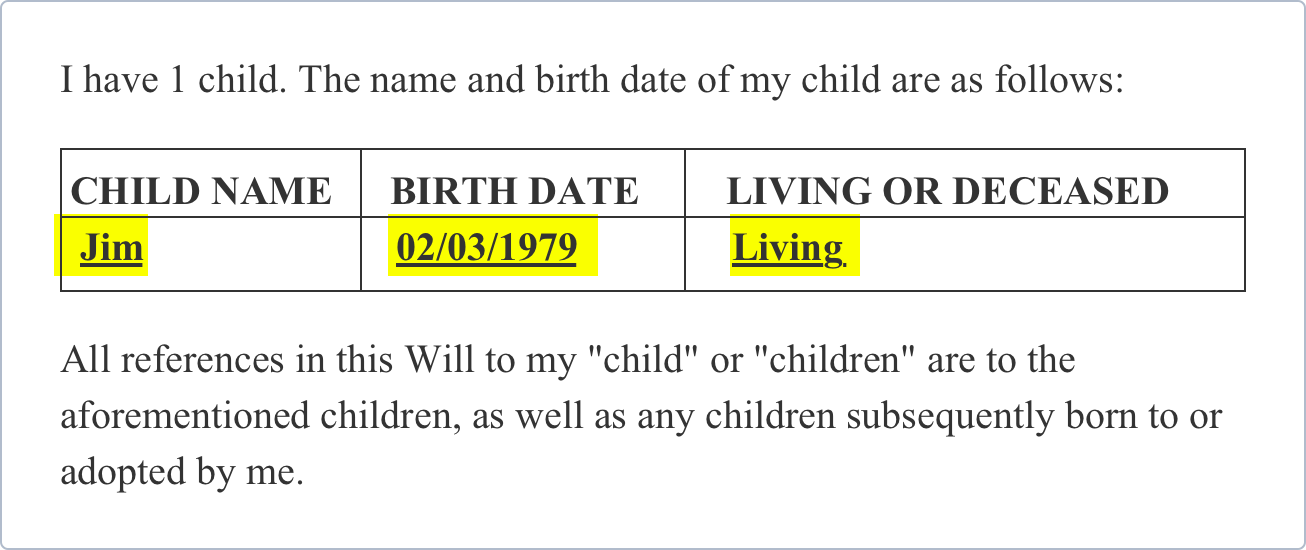 Step 4 - Burial and Funeral Arrangements:
In this step, you will be listing your burial wishes and arrangements. If you know where you would like your funeral home arrangements made, or if arrangements have already been made, provide the following information:
Funeral Home Name
Address (including city, state, and zip code)
Funeral Home Telephone Number
If you will have a repast following your service, provide the following details:
Location of Repast
Repast Address (including city, state, and zip code)
If you've made burial arrangements, provide the Cemetery Name and Address.
Also, if you have any memorial wishes, or if you'd like your ashes spread over a body of water or something similar, specify these wishes in this step as well.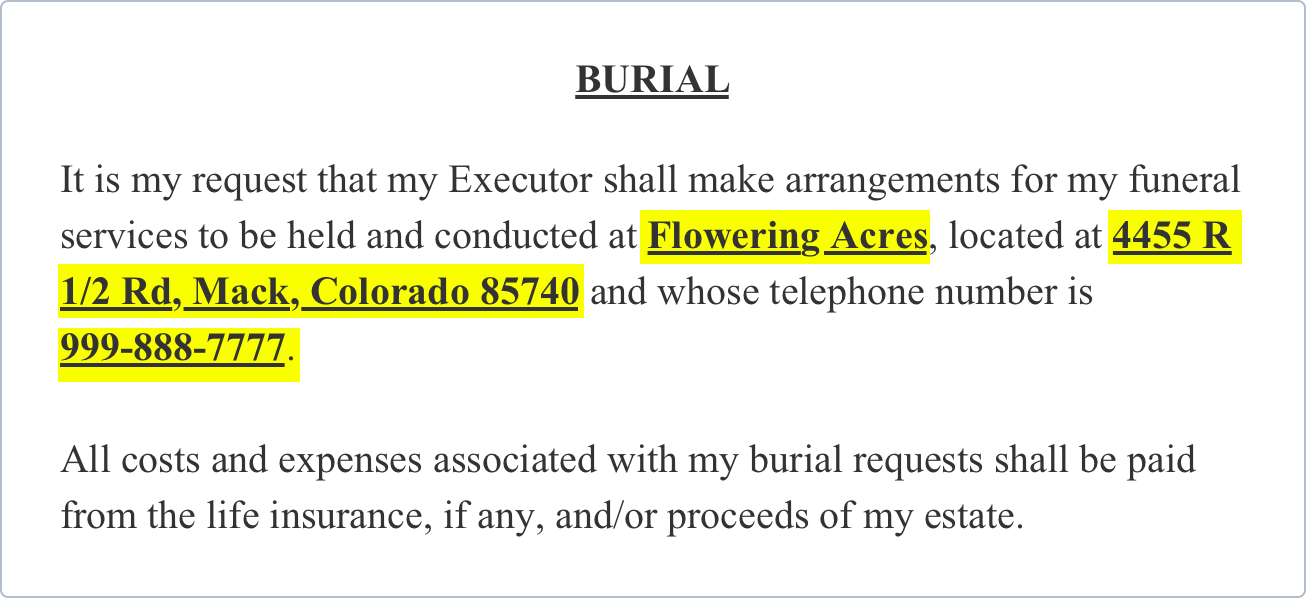 Step 5 - Debts and Expenses:
This section addresses your debts and expenses. In this section, declare the state laws in which taxes, debts, assets, etc., will be subject to.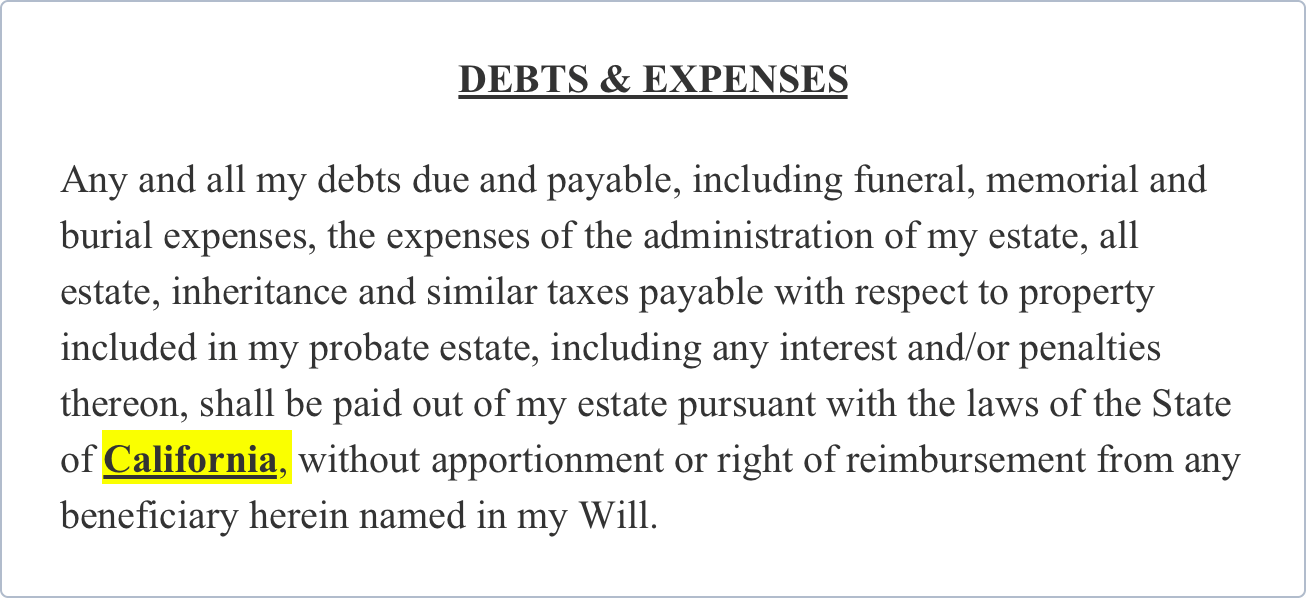 Step 6 - Outline Your Property:
If you own a home or property, specify that here. Provide the address of your home/property
Address
City

State

Zip Code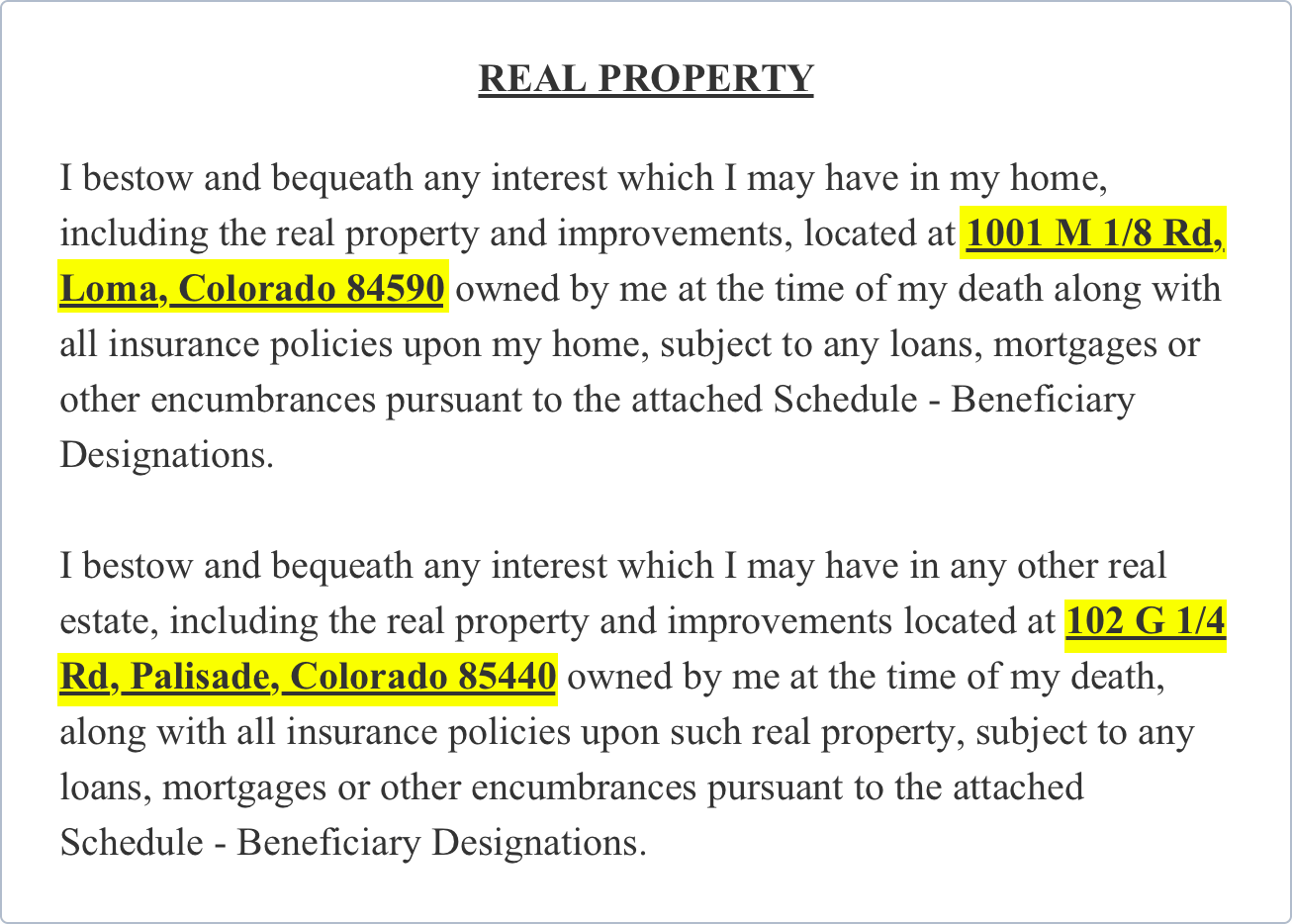 Step 7 - Pet Care:
If you wish for someone to take care of your pets after you pass away, provide the following information of your appointed caretaker or pet organization:
Name
Address (including city, state, and zip code)
Also, provide the following information for each pet:
Pet Type
Pet Name
Pet Veterinarian
Step 8 - Appointment Of Executor or Trustee:
This section will allow you to appoint your Trustee or Executor. Do this by providing your Executor/Trustee's name and his or her relationship to you. Be sure to provide an alternative in case your primary Trustee or Executor is unavailable.
Also, if you have Digital Assets, be sure to appoint a Digital Executor. Digital assets are assets like royalties, copyrights, etc. If you have Digital Assets, be sure to list a Digital Executor by providing the following information:
Name of Digital Executor
Relationship to you
Besides, provide the same information for an Alternate Digital Executor:
Name of Individual
Relationship to you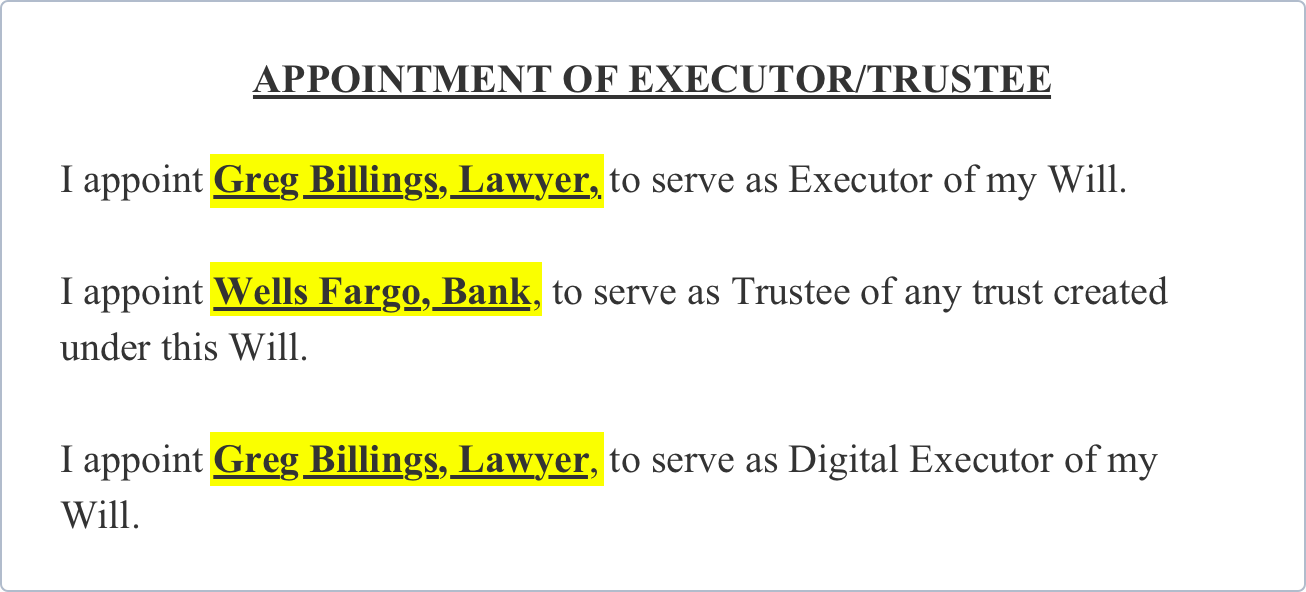 Step 9 - Signatures:
This portion allows the Testator to certify and seal the will, stating that they are of sound mind, and these are their wishes.
First, input your name (the Testator) the appropriate area, and sign, certifying that these are your wishes. Next, provide the following information for each witness:
First Witness' Signature, and;
Name
Address (including city, state, and zip code)
Telephone Number
Second Witness' Signature, and;
Name
Address (including city, state, and zip code)
Telephone Number