Guide to Racial and Restrictive Housing Covenants
By FormSwift Editorial Team
July 19, 2018
Dealing with Restrictive Covenants
Introduction
Property deeds often contain restrictive covenants that limit the use and sale of a property. Historically, covenants were used to maintain racially segregated neighborhoods. Today, they are used to restrict a wide range of far more benign elements of homeownership. This guide walks you through identifying any restrictive covenants in your own deed, how to ensure compliance with those restrictions, and how to challenge any you deem unfair.
What Is a Restrictive Housing Covenant?
A restrictive housing covenant is an agreement between the property owner and other parties (neighbors, potential buyers, etc.,) that limits how a property can be used and to whom a property can be sold. Typically, restrictive covenants are written into the deed directly or are referenced if the deed is held on file in the county or municipal government office or homeowner's association (HOA).  
Restrictive covenants apply to the property itself, rather than the owner who signs the agreement. Therefore, covenants remain legally binding in the event of the property's sale.   
Today, HOAs,  developer, builders, etc.,  use covenants to protect property values in residential developments. For example, covenants may restrict or guide home additions, exterior paint color, whether you can add a pool, build a certain type of fence, etc.
Racial Housing Covenants: A Historical Overview
By the late-1800s, just about every city in the US utilized race-based zoning laws. The federal government institutionalized racial covenants in the mid-1930s with the establishment of the Home Owners' Loan Corporation (HOLC) and the Federal Housing Authority (FHA).
While the Supreme Court banned racial housing covenants in 1948, it would take another two decades, and the passage of the Fair Housing Act (1968), before racial discrimination in housing was truly prohibited. In the years leading up to the Fair Housing Act, several states, including California, passed ballot initiatives protecting white homeowners' rights to discriminate in the sale or lease of their home. Those initiatives, however, were typically thrown out by the Supreme Court.
Because they were written directly into deeds, racial and restrictive covenants still appear in property documents across the country, despite the fact that they are unenforceable and unconstitutional.
How to Handle Restrictive Covenants
It is important that homeowners read through their deed(s) and search for any language related to a restrictive covenant. If you find one, be sure you can comply with the existing covenants and that they are fair and constitutional. If they aren't, you should consider consulting with a real estate attorney to learn about your potential legal remedies.
Circumventing Covenants
Begin by determining if any covenant in your deed is restrictive. Racial covenants, for example, are not enforceable. Additionally, many covenants have expiration dates. If your deed contains an expired covenant, it is no longer valid.
With that in mind, be careful about violating current legally binding covenants. If you choose to ignore a legal one, you risk a neighbor or your HOA taking legal action against you.
How to Remove Restrictive Covenants
If you have a restrictive covenant in your deed that you wish to remove, you could take your grievance to your HOA. However, they are unlikely to help you. It is the job of your HOA, after all, to enforce covenants.
Some HOAs may permit you to circumvent a restrictive covenant without having to go through the legal process of removing it. For example, they may grant you a waiver. If, on the other hand, you wish to deviate only slightly from a restriction, an HOA may grant a variance. For example, an HOA may grant a variance for a fence height slightly above the community limit, or for a color a shade darker (or lighter) than the allotted options.
If your HOA refuses to grant a waiver or restriction, you could consider legal action against the HOA. In this scenario, a judge would decide whether to amend the deed. For court, you will need the following:
Identification of the land subject to the deed restrictions
Identification of any known/potential beneficiaries
Reasoning behind wanting to remove the covenant
There is one final option: indemnity insurance. Indemnity insurance protects homeowners if the owner violates the covenant and the beneficiary takes legal action to enforce it. Indemnity insurance can cover the following: alterations made to the landowners property, the reduction in value of the landowner's property, general damages, or compensation.
Conclusion
The history of restrictive covenants is unsavory. While the Supreme Court outlawed the most discriminatory elements of covenants, deed restrictions remain commonplace for homeowners. We hope this guide provides a detailed overview on how to comply with, or challenge, covenants tied to your own property.
Segregation and Gun Violence in Top US Metropolitan Areas
July 19, 2018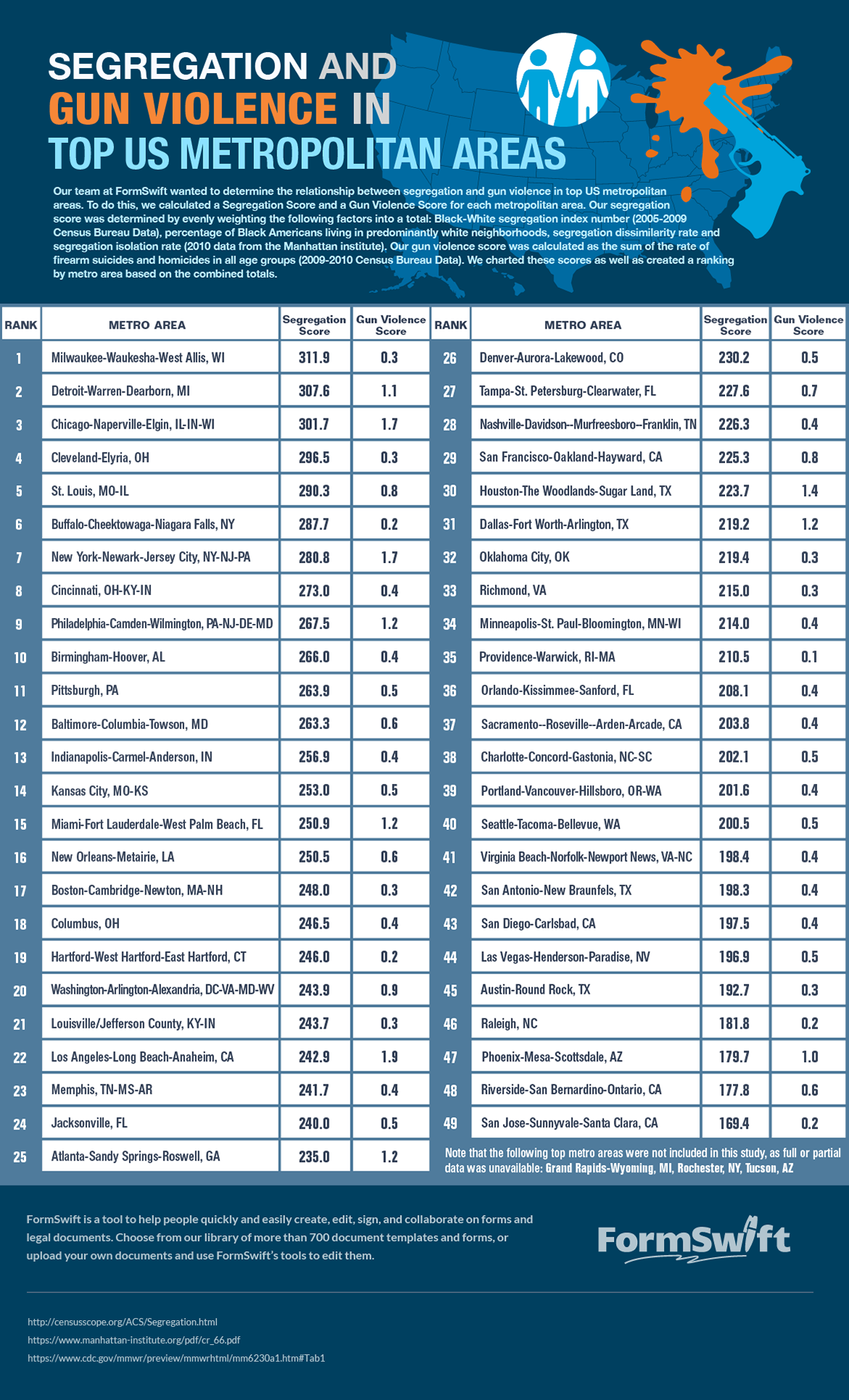 Methodology
Our team at FormSwift wanted to determine the relationship between segregation and gun violence in top US metropolitan areas. To do this, we calculated a Segregation Score and a Gun Violence Score for each metropolitan area. Our segregation score was determined by evenly weighting the following factors into a total: black-white segregation index number (2005-2009 Census Bureau Data), percentage of black Americans living in predominantly white neighborhoods, segregation dissimilarity rate and segregation isolation rate (2010 data from the Manhattan Institute). Our gun violence score was calculated as the sum of the rate of firearm suicides and homicides in all age groups (2009-2010 Census Bureau Data). We charted these scores as well as created a ranking by metro area based on the combined totals.