Common Situations for HHA's
Intellectual Property
HHA clauses pertaining to intellectual property generally cover issues related to patent, trademark, copyright infringement, or other risk.
Intellectual property HHAs can be burdensome to vendors because of the costs related to defending an intellectual property claim often exceed payments to the vendor under the agreement.
HHA clauses often include representation and warranties to protect the main party to the fullest extent.
For example, software licenses might include a representation and warranty that specifies that the licensor of the software will be indemnified from claims by a party.
For example, in the event a third party sues for copyright infringement, the licensor will use the hold harmless clause and force the developer to defend the claim and pay for any associated damages or settlements.
Due to the typically high costs of intellectual property liability, HHAs for intellectual property often cap liability. Licensing contracts may include a limitation of liability clause in the agreement and that also applies to the hold harmless clause.
For example, if an agreement includes a $30,000 fee to the vendor to develop software, the vendor may be liable for more money if they are required to defend any copyright infringement claims by others. So, he contract may include a clause capping liability at $30,000.
It is important to note, however, that many purchasers/licensors will negotiate earnestly for uncapped intellectual property indemnification.
HHAs and Risk Control in Business
In business, insurance is the standard way to transfer risk, but including an HHA or indemnification clause in contracts is also common. HHAs can serve as a liability release in a situation where a customer injures themselves, or can offload liability in the event of third-party legal action.
For example, if your business offers outdoor entertainment (e.g. horse or bike rides), a HHA clause can minimize your business' exposure to lawsuits in the event a customer incurs an injury.

With an HHA in place, the customer signing the agreement assumes the risk of injury.
Note: Situations like the example above can be complicated. It is difficult, for example, to offload all liability if the entertainment offered is used primarily by children (e.g. indoor play spaces, bounce houses, etc.).
Persons under 18 cannot legally waive these rights, nor can their parents.
The manner in which most companies work around this law is to require parents to sign an agreement agreeing to compensate the business if a child files a lawsuit.
HHAs are also common on online dating sites. The terms of use for these sites typically include a waiver that states that the user indemnifies the website from legal responsibility for the actions of any of its members. As a result, lawsuits against dating websites typically have difficulty earning standing in court.
Note to consumers: Even if you sign a HHAr, gross negligence on the part of business still allows a consumer to seek a legal remedy.
HHAs and Divorce
HHAs are commonly used in divorce to transfer financial obligations to a particular spouse. These obligations include credit card debts, student loan debt, and bankruptcy related financial obligations.
HHAs and Rental Agreements
Landlords typically include HHA clauses in their rental property agreements. HHA clauses in these agreements indemnify the landlord in the case of injury in or near the unit or sometimes if the tenant's property is burglarized. In other words, the HHA stipulates that renters are responsible for acquiring their own renter's insurance.
HHAs and Subcontractor Agreements (Construction Industry)
HHAs for a construction project between a contractor and a subcontractor typically cover any damages or legal actions brought forth, including attorneys' fees and settlements. HHAs in this scenario usually stipulate that the clause does not take effect until restitution is due.
If a contractor has an HHA with a subcontractor and a lawsuit is brought by a third party, the subcontractor must hire a lawyer and assume the defense of the contractor. Subcontractors are obligated to indemnify the contractor and pay the judgement, if one is awarded. If there is no judgement, the subcontractor must still pay theirs and the contractor's legal fees.
HHAs and Rental Car Companies
Rental car companies use HHAs to protect themselves against lawsuits involving rental car drivers in the event of an accident.
Conclusion
Although rather simple, HHAs are an incredibly consequential part of business contracts. They define and allocate legal liability between two parties entering a contract. We hope this guide gives you the tools and background you need to manage HHAs in your businesses.
Anti-Indemnity Statutes by State
June 14, 2018
Methodology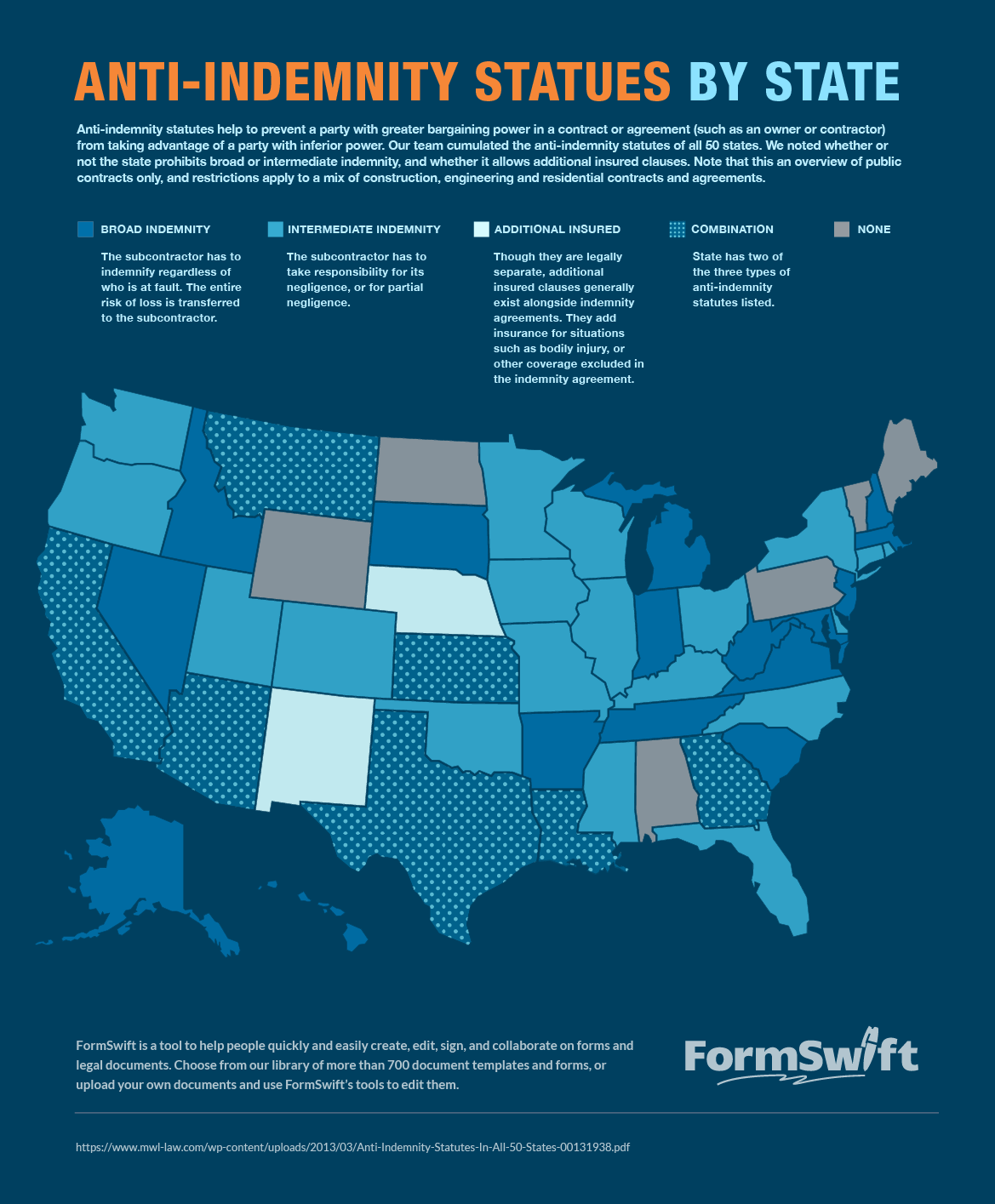 Anti-indemnity statutes help to prevent a party with greater bargaining power in a contract or agreement (such as an owner or contractor) from taking advantage of a party with inferior power. Our team cumulated the anti-indemnity statutes of all 50 states. We noted whether or not the state prohibits broad or intermediate indemnity, and whether it allows additional insured clauses. Note that this an overview of public contracts only, and restrictions apply to a mix of construction, engineering and residential contracts and agreements.