The Essential Guide to Quitting Your Job
By FormSwift Editorial Team
June 25, 2018
Introduction
Here is our guide to quitting your job. We cover good and bad reasons to do so, how to inform your boss, how to write a resignation letter, and how to prepare to enter new industries and positions thereafter. Quitting a job is a major decision. We hope this guide helps guide you through the process in a manner that maintains professionalism and courtesy.
Quitting your job basics
There are good and bad reasons for quitting a job. Therefore, if you are considering quitting, it is important you do so with good reason.
You should begin by asking yourself the following:
Will quitting make you happier (personally, emotionally, mentally, financially, etc.)?
Is the timing right?

Are you in a situation, financially, to get by, support your family, etc. without your current paycheck?

How will you cover your expenses?
Are you willing to change your lifestyle to accommodate the loss of income?
Good reasons for quitting
There are good reasons for quitting your job, including:
You are offered a new job: make sure, if you are offered a new job, that you have a signed offer before you tell your current boss you are leaving.
You are very unhappy in your current job: again, before quitting, take time to research and plan your transition out of your current job and into the next one, how you will support yourself in the interim, etc.
Serious Illness: personal or family illness is a legitimate reason to quit your job.

Be sure to assess what quitting means for your health insurance and how that impacts your treatment.

Your current job does not work with your schedule: perhaps, for example, you require more flexibility than your current position can offer.
Returning to school
Career change
Leave a part-time job for a full-time position elsewhere
Reasons to reconsider quitting
You are underpaid: unless you have another offer at a higher salary, quitting will not improve your financial situation. You should instead research the market salary rate for your position and experience and consider approaching your boss about a raise.
You feel under-appreciated: rather than quit, determine what type of appreciation you are missing and consider whether or not speaking with your boss can resolve the issue.
You are unfulfilled in your current role: again, rather than quitting, consider requesting more responsibilities or set up a meeting with your boss to discuss opportunities for an expanded role.
You are unhappy with your work-life balance: again, consider negotiating within your current company and position.
You are recruited: if you are not looking for a new job and are recruited for a new position, be sure to evaluate all of your options before taking the new job.
Questions to consider before talking to your boss
If you decide to quit, ask yourself the following before informing your boss:
Will you stay longer than your planned quit date if your boss asks?
If your boss makes a counter-offer to retain you, would you consider it? If so, what do you need in order to stay?
How to tell your boss you are quitting
It is imperative you quit your current position with class and professionalism. Although you may think you will never work with your current boss again, the future is uncertain. Moreover, your professional reputation and character follows you wherever your career takes you.
Therefore, be sure to do the following when you quit:
Express gratitude
Explain why you are leaving
Ask how you can help make this transition easier for the company
Remember that your resignation is an opportunity for networking and maintaining future connections and relationships.
Remember that you should follow-up an in-person resignation with a formal resignation letter.
Do's and don'ts for quitting
Here is our essential list of do's and don'ts when quitting:
Do's:
Give notice when possible.

Give at least 2 weeks notice, unless your contract requires longer, in which case, be sure to provide the required notice.
When you tell your boss you are quitting, give them the exact date you will stop working.

Write a formal resignation letter even if you resign via email or phone.
Clean up personal files and email messages on your computer.
Know what you are entitled to when you leave.

Benefits, salary, health insurance, unused vacation/sick day pay, rolling over 401k, etc.

Ask your boss/coworkers to write you a reference

They can do this on Linkedin, but also ask if they will also be available via phone and email in the future

Return all company property
Don't:
Write an antagonistic or animus-filled resignation letter

Remember, your professional reputation extends well beyond your current position. A rude letter may come back to haunt you in the future.

Make the resignation personal, in any way
Tell your co-workers you are/were unhappy with your current job
Brag about your new job
Bad mouth your old job or coworkers
Leave without saying goodbye to your colleagues

This can be done in person, or via email.

Write a negative review of your company on Glassdoor or any other site that can be traced back to you.
What to do before leaving your job
After you inform your current company you are leaving, it is important to continue to do your job sufficiently and professionally until you leave. Here are some tips to do so:
Offer to help your team or manager train a new hire or help them adjust without you.

Make a list of your job responsibilities and share that list with your manager or new hire.

Update your Linkedin profile and resume.
Write recommendations for others and ask them to do the same for you.
Save whatever samples of your work you can (assuming you are legally permitted to, of course) to your personal computer so you can use them for future job interviews.

Make sure any work you keep does not violate any company NDAs.

Have a plan in place when you stop your current position

How will you cover expenses, what does your financial safety net look like, etc.?
Make a new budget, if necessary

Calculate your retirement income
Do you need a formal resignation letter?
Whether or not you need a formal resignation letter depends on several factors. You should therefore do the following:
Consult your employee handbook/agreement
It should indicate if a resignation letter is required

If it is, your HR representative should notify you.

Consider drafting one anyway: having one on hand is a good idea, should you need it.
If you do not want to write one, make sure there is written evidence of your resignation (in an email, etc.) in order to avoid any potential confusion.
If you resign via email or phone call, you should still follow the resignation letter format (provided below)
How to write a resignation letter
If you need or decide to write a resignation letter, here's how to do so:
Components:
Header: your contact info, employer compact info and the date
Salutation: address your manager with their formal title
Introduction: begin the body of your letter with a clear and concise statement

E.g. "Please consider this letter to be my formal notice that I will no longer work at x company, effective y date."

Thank you: thank your manager(s) and team, even if you hated your job
Explain how you will help transition

When will you complete current projects, what will be the status of any you cannot complete, how will you prepare the rest of your team for your departure, will you train a new employee, etc.

End on a positive note
Signature (handwritten) followed by typed name and contact information
Guidelines
Keep the letter concise (no more than one page typed)
Use a traditional font and size (10-12 point)
Format the letter properly--single-spaced with one-inch margins all around
Make sure to edit and proofread the letter before submission
How to write a no notice resignation letter
In some instances, you may have to resign your current position immediately and without notice. If such a situation arises, we recommend you do the following:
Speak with your manager first, then follow up with HR (in person is always best)
Write a letter

You do not have to go into details, but be sure to express your gratitude
Apologize for not being able to provide proper notice
Preparing to quit your job--Millennial edition
According to one study, here are the five most common reasons millennials quit jobs:
Minimum wage growth
Lack of advancement opportunities
Excessive overtime
Corporate culture that discourages collaboration
Not enough flexibility
Therefore, if you are a Millenial and considering quitting your job, be sure to consider the following tips, geared specifically for the Millenial generation:
Prepare your finances: in general, Millennials do not have as much in savings as older generations, so it's important to determine how you will pay for expenses like rent, food, utilities, emergencies, etc.
Look for full time roles: if you can't find one, consider relevant freelance positions
Don't be impulsive: think carefully about why you are quitting, why are you unhappy, and why quitting will make you happier?
Preparing to quit your job to pursue entrepreneurship
Many workers quit their jobs to pursue their own entrepreneurial ventures. While it may seem like a good idea to quit your day job in order to pursue entrepreneurship full time, it is important to assess a few things before taking that plunge:
Assess the viability of your business concept: have you conducted extensive market research, talked to investors and potential partners, etc.?
Are you ready for your role and expanded responsibilities with your new business?

There are many additional responsibilities when running your own business

Assess your finances

If your new business tanks, can you support yourself?
Do you have a back up plan?

Seek advice, from friends and relatives, past co-workers, managers and mentors.
Conclusion
It is likely that all workers will find themselves in a situation at some point in their career where they seriously contemplate quitting a job. It is essential that when they do they proceed without impulse, immaturity, and unprofessionalism. Hopefully this guide equips you with the tools to navigate quitting a job in the best way possible.
Firings and Resignations Under Nixon and Trump
June 25, 2018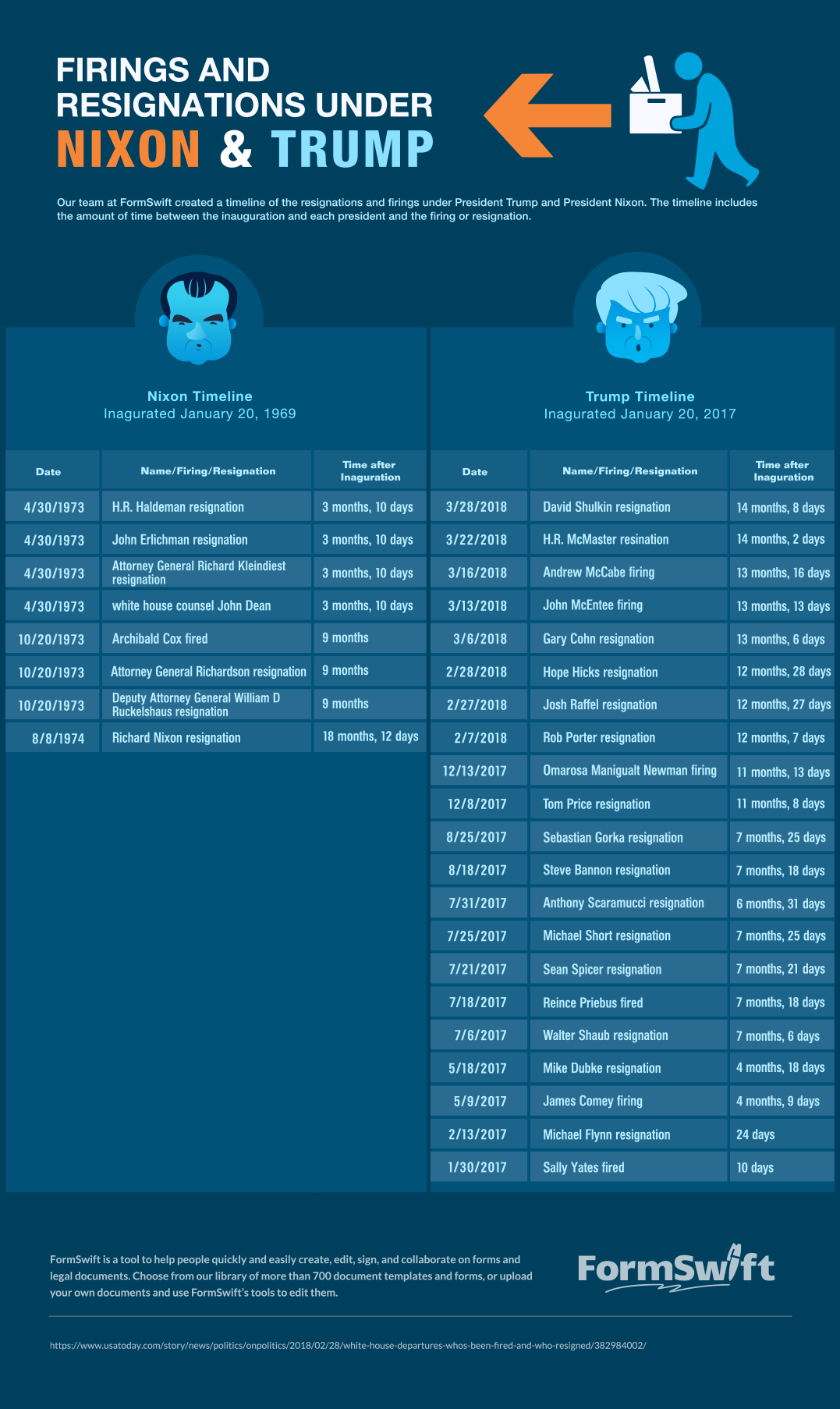 Methodology
Our team at FormSwift created a timeline of the resignations and firings under President Trump and President Nixon. The timeline includes the amount of time between the inauguration and each president and the firing or resignation.