Contents of a Pay Stub
What is a pay stub?
A pay stub is that little slip of paper that is attached to a paycheck. It allows employees to
keep record of payments
received. Generally, it looks something like this:
When an employee receives a paycheck, he or she can free the pay stub from the check and file it away to use at the end of the tax year. A pay stub form should contain some basic information that can be divided into three components - company information, employee information and payment details. What follows is a summary of each component.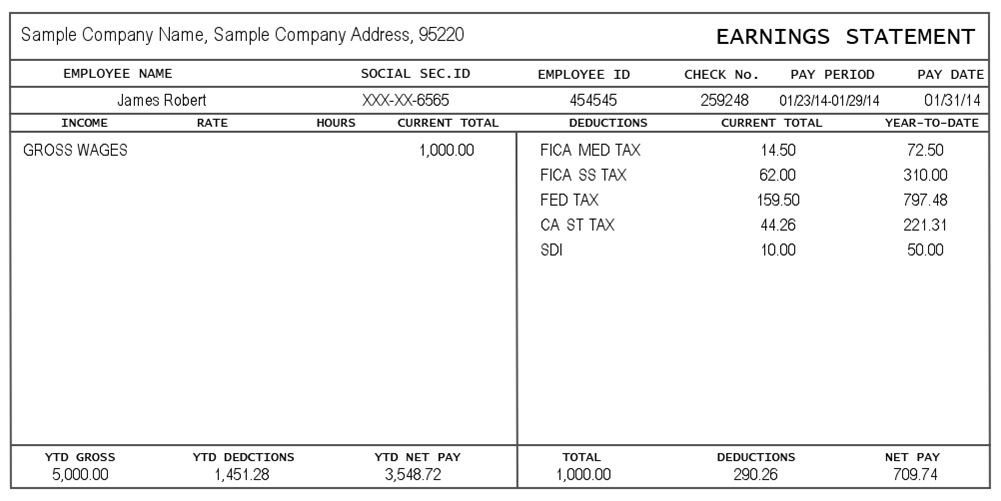 Company Information
This is pretty basic. Company information includes the company's DBA name and address. It is generally listed either along the top or bottom of the pay stub.

Employee Information
This section must include an employee's full legal name and employee ID number. It may also include social security information. If you mail paychecks to your employees, this section should also include the employee's address. An easy way to organize this information is to list it along the top row of the pay stub.

Payment Details
This is the more extensive component of the pay stub. Basically, it should summarize how much money the employee has earned during the applicable pay period, as well as
how much he or she has earned
thus far this tax year. A pay stub template would consist of the following parts:
Check Number
This is the number of the check issued the employee. This comes in handy should the check need to be cancelled or tracked down.

Pay Period and Pay Date
These are pretty self-explanatory. The pay period section should list the beginning date (aka: 1/11/09) and end date (aka: 1/25/09) of the pay period in question. The pay date section should provide the date on which the check is issued. Generally, this is a few days after the end date of the pay period.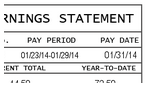 Amounts and Types of Income
This is the real meat of the pay stub. It must provide the number of hours worked, both regular and overtime. It should also specify the amounts earned for each type of income. Income types include gross wages or "regular" (in other words, hourly),
as well as direct tips for food service workers and other tippable employees. Hours and amounts must be provided for both this particular pay period and the total tax year to date, often abbreviated as "YTD." This section should also include the hourly
rate earned by the employee.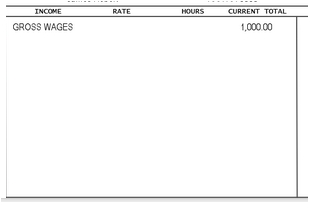 Deductions
A pay stub should also list deductions, for both this pay period and the YTD.
Common deductions
include federal tax, state tax, Medicare, and social security. The stub must provide both an itemized list of deducted amounts and the sum of all deductions.