What is a Rental Application?
The best rental application will protect the landlord by helping them to figure out if a tenant is financially and socially stable.
The application will ask the prospective tenant for a lot of personal information, such as full name, address, social security number, and more. A credit check may also be included with the application to screen candidates.
Since the rental application is so important for both the landlord and the applying tenant, it is crucial that it has all the required information from the start. Look over the application carefully to ensure you ask all required questions so your application is valid.
What are the Components of a Rental Application?
There are a few basic elements to a successful rental application:
Applicant's Personal Information

This information can be a little more "personal" than the usual name, address, phone number, etc. It should include driver's license information, date of birth, social security number (for conducting background checks) and whether or not any of the prospective tenants smoke. There should also be a section inquiring about the applicant's current employment and employment history. Very often, an income verification is required along with the application (standard practice is to include the two most recent months' pay stubs). There should also be a section for the applicant's current address, including questions as to whether the address is rented or owned, how long he or she has been living there, and contact information for the landlord (if applicable). This enables you to get in touch with the applicant's current landlord and verify that he or she can pay rent on time.

Details of Address Being Applied For

If you are renting out multiple units, be sure to have applicants clarify which unit it is they are applying for and their desired date of move-in.

Prior Residences

This is fairly straightforward – include sections for previous addresses, the nature of living each living arrangement (rent vs. own) move-in and move-out dates, and contact info for each landlord.

Other Applicants

Here, the applicant should write the full legal names of any other applicants who plan to live in the apartment. Bear in mind - it is wise to make each applicant fill out a separate application, even if they are applying as a unit.

Pets

If you will allow pets in your building, require applicants to specify all pets in this section (species, number, ages, and any other information you will need).

Vehicles

This only applies if your rental includes parking. Applicants should describe the model, make and size of their vehicle, as well as its condition. Vehicle information is important because it helps you know which cars should, and should not be on the property. Additionally, this will inform you on whether your property will accommodate an applicant's car, should it be electric and require charging or require special parking due to its size.

Tough Questions

These include questions like "Have you ever been evicted?" "Have you ever been convicted of a felony?" and "Have you ever filed for bankruptcy?" Provide your applicants space to explain each answer.

References

Have each applicant provides names and phone numbers of at least two references. These may be professional references, such as a supervisor or coworker or personal references, like a relative or close friend, but they should have known the applicant for a reasonable amount of time.

Emergency Contact

This may seem like a silly question, however, the reasoning behind it is not as obvious as it may seem. Asking for an emergency contact is a way to track down tenants should they skip out on a lease. If they suddenly leave without paying rent, or cause severe damage to the unit and disappear, referring to who they listed as their emergency contact is a good start to tracking them down.

Signatures

As usual, the application must conclude with the signature of the applicant as well as the date that the application is completed.
Why Do I Need a Rental Application?
A rental application is, in short, your number one tool for weeding out unsavory tenants. By requiring potential tenants to fill out a rental application form, you are able to get a sense of who each person is, as well as perform a full background check on each of them. This enables you to avoid sheltering serial killers, sex offenders, and juvenile or financial delinquents.
Rental Application: 6 Easy Steps for Landlords
Your rental property is an investment into your financial well-being. One of the best possible things you can do is to have potential tenants complete a rental application. This doesn't have to be difficult! Here are 6 easy steps to help you get through the process.
Step 1: Every Potential Tenant Must Complete a Rental Application
A rental application should be filled out after the potential tenant has viewed the property and shows interest in renting. If there are two or more adults who would be named on the rental agreement, each person should complete a rental application. This document asks for basic information about the tenant, including their employment and rental history. It also asks about criminal convictions. You should attach a copy of the Fair Credit Reporting Act that explains what rights the potential tenants have during the application process. The potential tenants should return the application along with the application fee. The application fee is most often used to pay for the second step, running a credit report.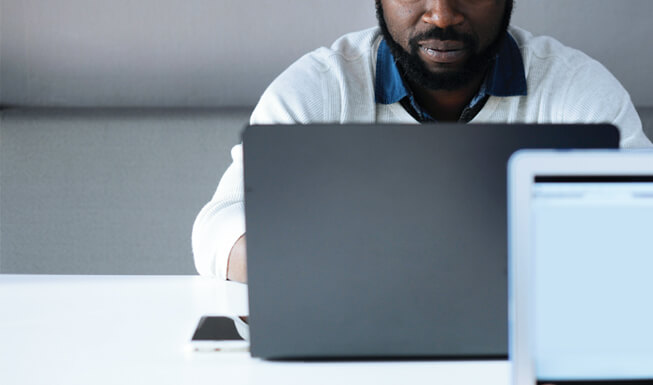 Step 2: Run a Credit and Criminal History Report on the Potential Tenant
A credit report and a criminal history report (also known as a background check) can help you determine whether the potential tenant can afford to rent the property and the likelihood that your property will be properly cared for. There are numerous options available for you to run these reports. RentPrep.com charges $28 per application. ScreeningWorks.com and MyRental.com charge $30 per application. E-Renter.com charges $32 per application.
If there was a reason that the potential tenant could not complete the application and you're both exploring the possibility of creating the landlord-tenant relationship, there are credit and background companies that the applicant can pay to use. LeaseRunner.com costs the applicant $32. MySmartMove.com is owned by TransUnion and it costs the applicant $35. Cozy.com costs the applicant $40.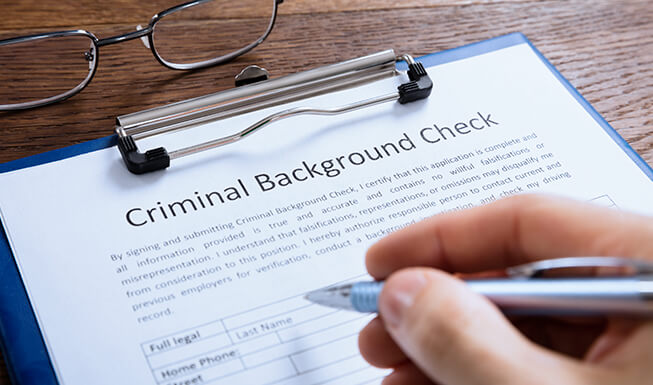 Step 3: Verify Both Employment and Income for the Potential Tenant
Make sure that you call the potential tenant's employer (you'll most likely need to request to speak with someone in Human Resources) to ensure they're employed as well as to verify their income. You can also ask the potential tenant for their last two pay stubs. If the potential tenant is self-employed, ask for the last two copies of their federal tax return to show their income.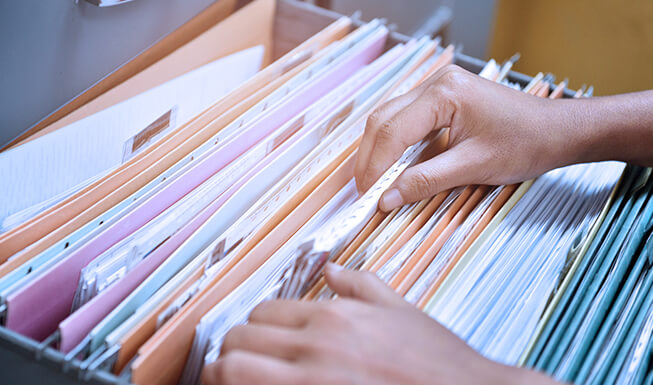 Step 4: Call Previous Landlords to Verify Rental History
Call the previous landlords or property management companies listed under "Rental History" on the rental application. Ask about:
Whether the potential tenant was ever late when paying their rent. If so, ask about how often this happened during the previous rental period.
Whether the potential tenant was served an eviction notice (or a notice to quit). If so, what was the reason?
Whether the tenant was loud.
How the potential tenant left the previous residence. For example, was it clean and in good repair (outside of normal wear and tear)?
How the potential tenant appeared to get along with others if the rental was a multi-tenant establishment such as an apartment complex.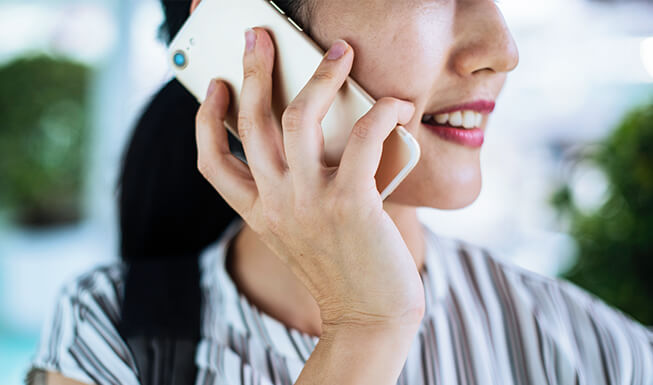 Step 5: Consider Checking the Sex Offender Registry
While it is not legal for you to deny a potential tenant just because you find their name on the sex offender registry, you can use the information to determine if the potential tenant would create a danger to others on the property. It is relatively easy to check the sex offender registry. In a search engine, type in the name of your state and the words "sex offender registry." You can also look for a national sex offender registry to search multiple locations. This is helpful because some sex offenders do not register if they move from another state even though they should.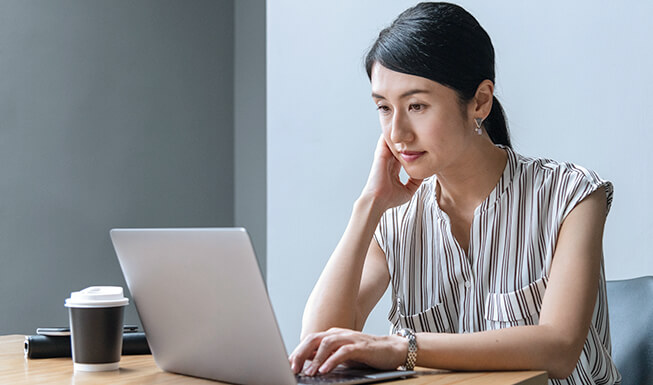 Step 6: Decide Whether They'd Make a Good Tenant
You'll want to consider their credit score, their job history, their income, their criminal convictions (if any), and previous rental history. Keep in mind that there are legal protections in place to stop discrimination. So, be very careful and make sure that if you deny someone that you're doing so for a lawful reason. If you decide to rent to the individual, send them an approval letter and collect the security deposit after you create the rental agreement. If you're denying the application, send out a rejection letter. Keep a copy of the letter for future reference.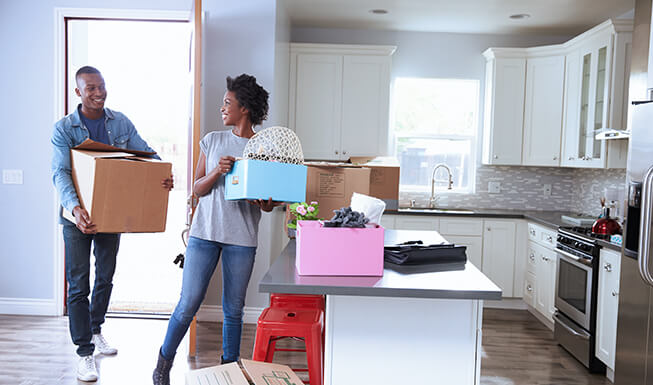 What Should You Include in the Background Check?
A background check is an important component when deciding if you want to rent to someone. You should look at the potential tenant's credit (including their credit score), current employment status, their income, their previous rental history (including whether they've been evicted), and ask for references.
A Step-by-Step Process of Writing a Rental Application
Step 1 - Application Fees and Background Checks:
This portion of the rental application will describe whether or not a fee will be charged for submitting an application with the landlord. If an application fee will be charged, indicate the amount that will be charged to the applicant.

Step 2 - Pet Provisions (Optional):
If pets will be allowed in the rental, indicate the maximum number of pets allowed in the apartment. In addition, specify the amount required to cover the pet deposit. These figures will specify the deposit required for one pet, and for two pets. Also, specify the deposit amount that is non-refundable.
Step 3 - Landlord Information:
This section identifies the landlord and provides his or her contact information. When filling out this section, be sure to specify the following:
Landlord's Name
Full Address (Including city, state, and zip code)
Landlord's Email Address
Landlord's Telephone Number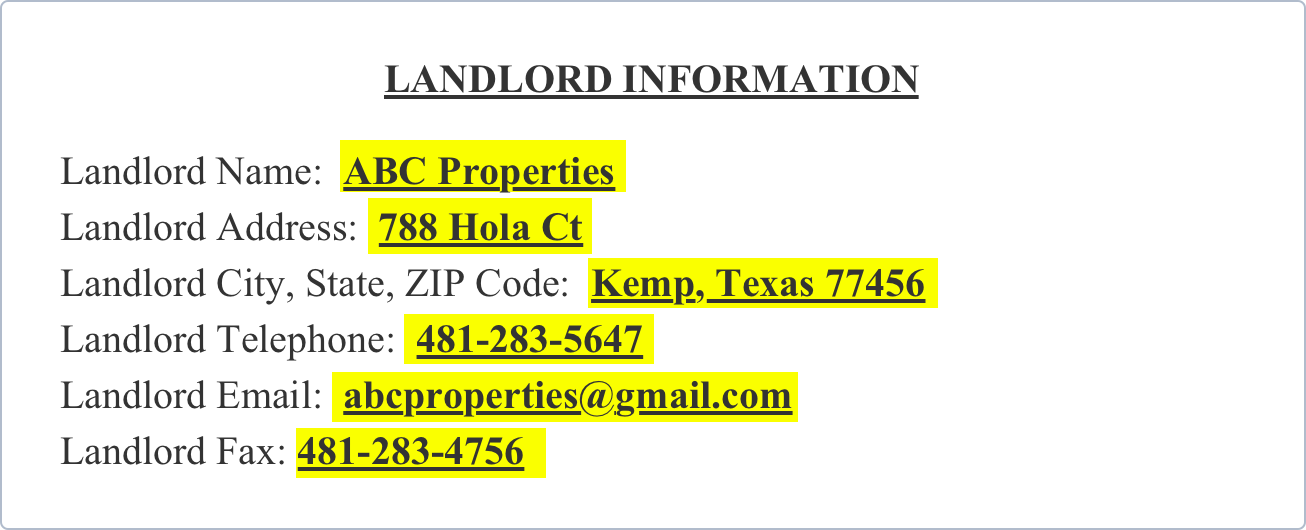 Step 4 - Rental Property Information:
In this section, the property being presented for rent is described, including the particular unit/rental information. Provide the following details about the rental property:
Property Address (including city, state, and zip code)
Number of Bedrooms
Rental Term
Amount of Rent Due and How Often
Security Deposit Amount

Step 5 - Applicant Information
In this section, the applicant's details will be highlighted. These details include the applicant's:
Date of Birth
Social Security Number
Date of Birth
Current Address
Phone Number
Email Address
Other personal information that will highlight their employment and rental history.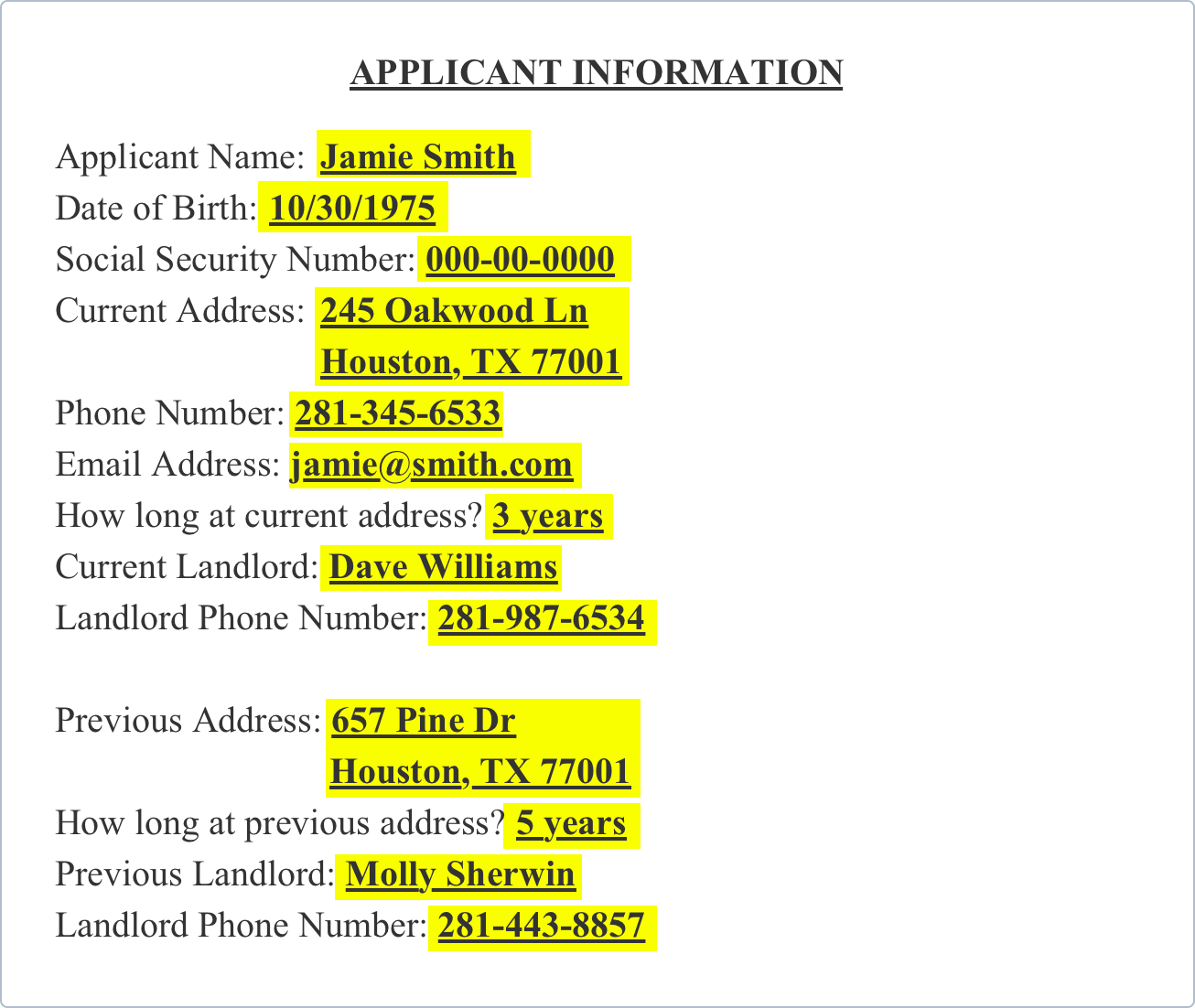 Step 6 - Employment and Financial History of Applicant:
This portion of the application highlights the employment and financial history of the applicant. This section gives the landlord an in-depth look into the applicant's life to help him or her determine whether or not the applicant will be a good candidate to rent the apartment or rental property. Information required includes current and past employers, positions held, and period of time where the position was held.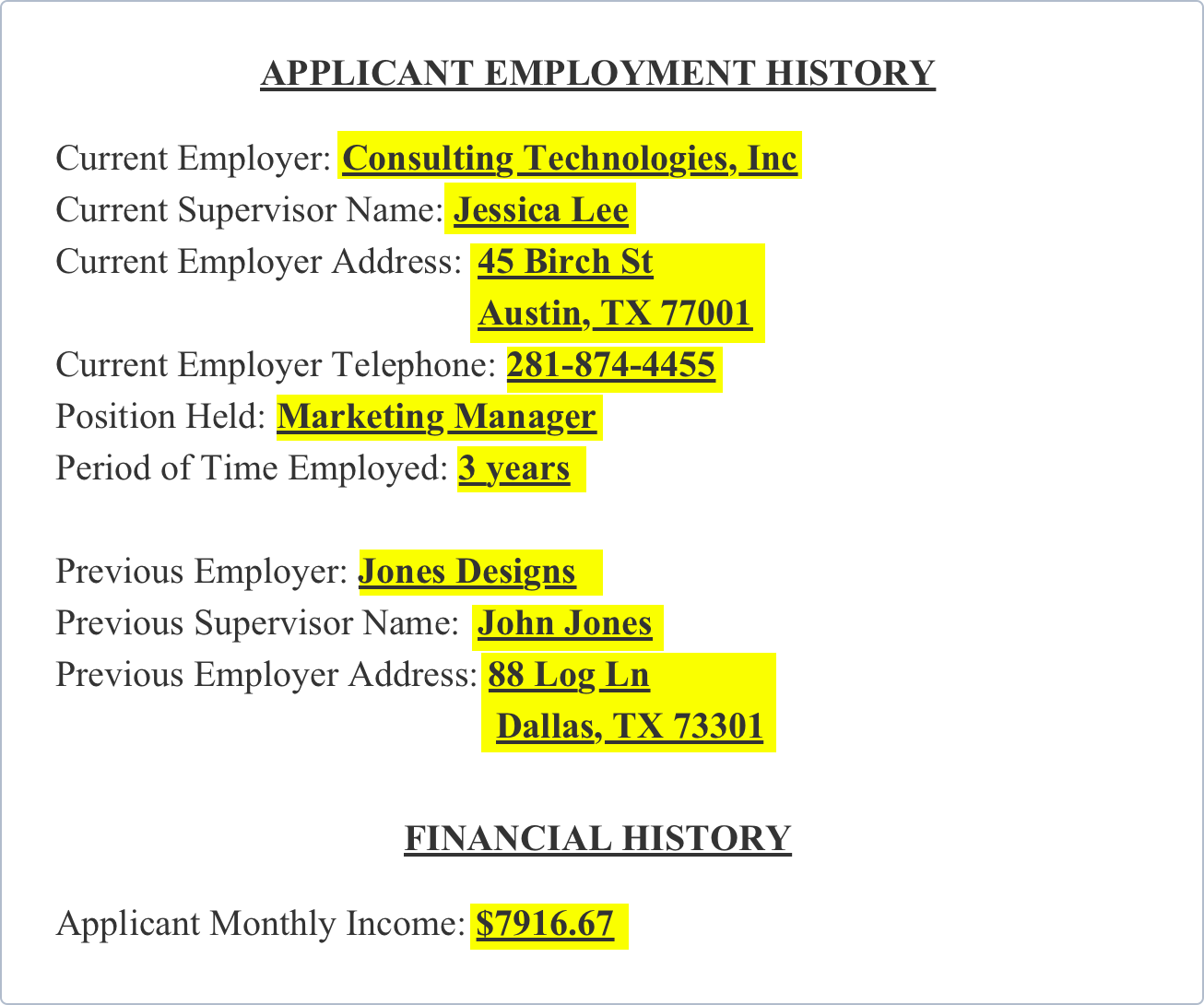 Step 7 - Reference Checks:
In this section, the applicant will provide personal references that will back up, or give further account to who they claim to be on paper. In this section, the applicant will provide the following information for each person that can support their claims, and give the landlord further insight on who they are as a person:
Reference's Name
Relationship to Applicant
Years Known
Telephone Number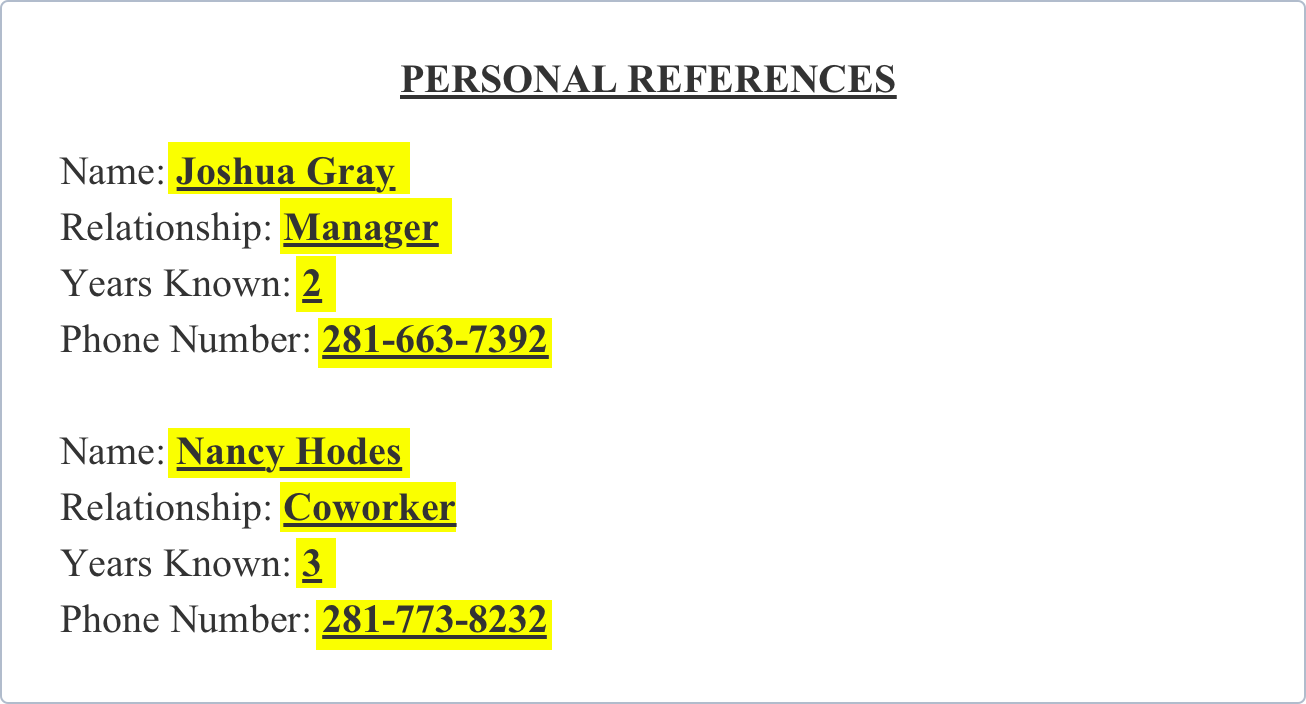 Step 8 - Personal History:
This section highlights some personal details of the applicant and helps the landlord determine whether or not he or she will be a promising tenant. These details include whether or not the tenant smokes, or has been evicted. Additional details include whether or not the applicant has been convicted of a crime, or declared bankruptcy.